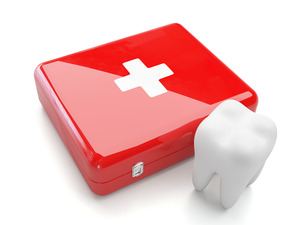 It goes without saying that when you have a dental emergency, you need to seek help from a professional right away. But who exactly should you reach out to? Is calling your dentist your best option, or would it be better to get in touch with the nearest emergency room? Here are the answers you need to ensure that you don't lose any time finding relief.
When to Call the ER for Dental Emergencies
Generally speaking, the ER is the wrong place for emergency dental care. The doctors there likely won't have the necessary training to handle knocked-out teeth and other urgent dental issues.
Having said that, you should call the ER if you have:
Serious oral cuts or lacerations that won't stop bleeding.
A fractured or dislocated jaw.
Swelling that is interfering with your ability to breathe or swallow.
The above issues can be life-threatening and require immediate medical attention, which is exactly the sort of situation that warrants a visit to the ER.
When to Call Your Dentist for Dental Emergencies
You should get in touch with your dentist whenever you have a dental problem that isn't serious enough for the ER but still requires urgent care. Some common examples of emergencies that your dentist can help with include:
A toothache that lasts more than a couple of days and/or is causing severe pain.
A chipped or cracked tooth.
A tooth that has come loose or has been knocked out of the mouth entirely.
If you're not sure whether your situation counts as a dental emergency, call your dentist anyway to let them know what symptoms you're experiencing. They can help you figure out whether you need to schedule an emergency appointment, and they can give you first-aid instructions so that you can protect your smile from further damage.
How Does Emergency Dental Care Work?
When you arrive at your dental practice for an emergency appointment, your dentist will take steps to relieve any pain you might be experiencing. They will also examine your mouth (taking X-rays if necessary) to figure out the underlying cause of your dental issue.
After sharing their findings with you, your dentist will explain what treatments are available and give their recommendations. You'll be given an estimate of the treatment timeline as well as the costs involved so that you aren't caught off guard later in the process. Once a treatment has been agreed to, your dental team will work so that you can find relief quickly.
It's important to have an emergency dentist that you can turn to right away whenever you need urgent dental care. The faster you can be treated, the more likely you'll be able to prevent your oral health issues from becoming any more complex.
About the Practice
Here at Clear Coast Dental, our experts all work together to bring families in New Bedford outstanding dental care. We can schedule same-day appointments for patients with dental emergencies, and we offer a comprehensive range of services that take advantage of the latest dental technology. If you'd like to set up a consultation at Clear Coast Dental, visit our website or call (508) 812-9294.