Porcelain Veneers – New Bedford, MA
Transforming Your Smile In Just Two Visits
As a cosmetic dentist in New Bedford, we've found that porcelain veneers are one of our most popular procedures, and it's easy to see why! Not only can we completely transform the appearance of your smile, but we can usually do it in just two appointments. If you've always wanted a smile that looks amazing and would like to know if porcelain veneers are right for you, give us a call at Clear Coast Dental today to schedule a consultation!
How Do Porcelain Veneers Work?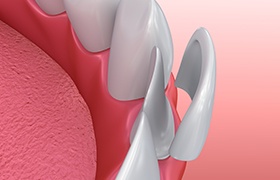 Veneers can be made from a variety of materials, but porcelain is a particularly great choice. In addition to being very strong, it reflects light the same way that natural teeth do and is also stain-resistant. This makes porcelain veneers natural-looking and also long-lasting (they can last 10-20 years with basic maintenance).
After we've done a consultation to make sure veneers are right for you, we'll discuss how you want your smile to look. Then the procedure is done in two visits:
First, we'll numb the area and prep your teeth by removing a small amount of surface enamel. This is done so your veneers don't look or feel bulky.
We'll take impressions to send to the dental lab and will give them the exact specifications we want for shape, size, and color.
Next, we'll put temporary veneers on your teeth that will stay on until your second visit.
Finally, you'll come back about two weeks later to have the permanent veneers adhered. The cement we use is similar to what's used for dental crowns, so it's very strong and durable.
The Benefits of Porcelain Veneers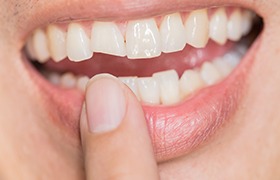 Porcelain veneers offer many benefits and will give your smile an entirely different look. First, they're easy to maintain and will look great for many years. They're also very conservative, so we can preserve more of your existing tooth structure compared to other procedures like dental crowns. And, since porcelain is so stain-resistant, you won't have to worry about coffee, tea, or red wine stains.
Another advantage of veneers is that they can be used to mask a multitude of cosmetic flaws, including chips or cracks, oddly shaped or uneven teeth, severe stains, small gaps, and minor crowding. While we do want to make sure you don't have any oral health needs that need to be addressed first (e.g. cavities or unmanaged gum disease), most people are a good candidate for the procedure.
How Can You Maintain Your Porcelain Veneers?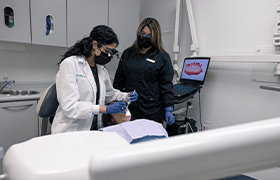 Although porcelain veneers don't require any complicated maintenance, there are a few tips and tricks you can use to help them last:
See us for regular checkups so we can spot any potential problems as early as possible.
Your veneers themselves can't get cavities but the tooth structure underneath them can. Floss once each day and brush at least twice with a soft-bristled brush and non-abrasive toothpaste (avoid whitening formulas because they can scratch and dull porcelain).
Avoid chewing on things like ice or pens, and be careful when eating anything crunchy like apples (cutting them into pieces first is helpful).
If you clench and grind at night, wear a nightguard to prevent chips or cracks.
Understanding the Cost of Veneers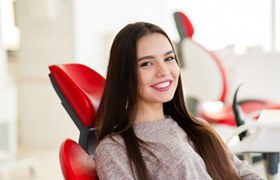 You want veneers to change the look of your smile. You like the idea that you can transform your appearance with the help of these customized restorations, and you have no plans of ever turning back. But do you know about the cost of veneers? Because of their permanence and capabilities, they are considered more expensive than other cosmetic solutions. This is why it's important to weigh your options before making a decision.
Cost vs. Cosmetic Dentistry: What's Right for Me?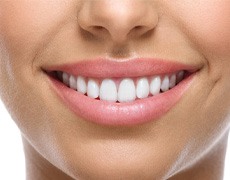 There are many types of cosmetic treatments available at Clear Coast Dental. Knowing which one is right for you based on your preferences, needs, and budget is something to think about before moving forward with any kind of care:
Veneers: Made of porcelain and capable of changing the size, shape, and color of your teeth, veneers are a great option if you want a full smile transformation. Completed in just two appointments, you can embrace a new and improved look, but you should know they do cost more than dental bonding, teeth whitening, and other similar solutions.
Metal-Free Dental Restorations: A great option if you are suffering from decayed or damaged teeth, these metal-free crowns and fillings can be ideal when wanting to keep your treatment a secret. If considering solely for aesthetic purposes, however, you should know that the cost can add up quickly depending on how many teeth you want to be covered.
Dental Bonding: Viewed as an affordable solution to hiding minor tooth flaws, dental bonding is less invasive and can be completed in just one appointment. This makes it a popular option among individuals who would rather skip the removal of tooth enamel and instead stick to a solution that can be reversed in the future.
Teeth Whitening: Whether you opt for in-office or take-home teeth whitening, this unique solution is great for hiding stains and discoloration, but that is all it can do. Although more expensive than over-the-counter kits, seeking professional treatment is worth the time and money.
Invisalign & ClearCorrect: Clear aligner systems are great for straightening crooked teeth, closing gaps, and realigning bites, but they cannot change the size, shape, or color of your teeth – all of which are reasons why so many patients choose veneers.
How to Make Veneers Affordable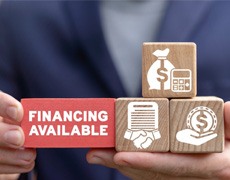 We offer two alternative payment options when it comes to receiving veneers in New Bedford. You have the option of enrolling in a flexible financing plan through CareCredit, or you can sign up for our in-house dental membership plan. By paying one low fee, you gain access to a host of amazing benefits, some of which include free preventive care and a 10% discount on all other available services completed in our office.
Porcelain Veneers FAQ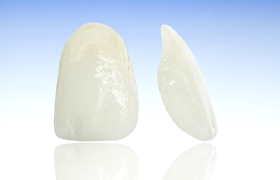 At Clear Coast Dental, we're here to guide you through the process of getting porcelain veneers from the initial consultation to the final placement. We want you to be confident about receiving your new smile, so feel free to tell us about any concerns you have or ask questions if you don't understand something. Here are just some common questions about porcelain veneers that patients have wondered about in the past.
Can Porcelain Veneers Fix a Gap in My Teeth?
In many cases where there's too much empty space between your teeth, porcelain veneers can be used to fill it in. You might need a different number of veneers depending on the size of the gap. If it's relatively small, two veneers are usually enough to fix it, but for larger spaces, four to six veneers might need to be placed across the front teeth so that your smile appears balanced.
What Happens if a Porcelain Veneer Chips or Breaks?
If part of the veneer breaks off, remove and check the fragment. If the whole thing came off, save it; we might be able to put it back. If it's really broken, check the part that's still on your tooth and take note of any sharp edges that might cut your mouth. Call us right away to schedule an appointment so that we can decide on the next step. Be gentle with the affected tooth; it shouldn't be in any danger, but it might be sensitive until the veneer is replaced.
Can You Get Porcelain Veneers on Bottom Teeth?
Yes! You can get veneers for both your upper and lower teeth depending on what kind of changes you want to make. We'll examine the current state of your choppers and figure out how many veneers are needed and where they'll have to be placed in order to create a natural looking smile. Keep in mind that you won't always need veneers on both rows of teeth.
Can I Get a Single Porcelain Veneer?
The number of veneers you get depends on the kind of improvements you're making in the first place. For example, if you're just looking to cover up a crack or a single misshapen tooth, chances are all you'll need is one porcelain veneer to solve the problem. However, if you're looking to make more extensive changes – such as, say, covering up discoloration on multiple teeth – you'll most likely need more than one porcelain veneer. We can recommend an exact number that we feel will best revitalize your teeth.
Does Insurance Cover Porcelain Veneers?
Since dental insurance doesn't usually pay for a purely cosmetic procedure, you'll probably have to pay for porcelain veneers out of pocket (unless the veneers are also being placed for restorative reasons). That said, we can work with you to make sure you get all the insurance benefits you're entitled to. We also offer other financing options like CareCredit that can help make your treatment as affordable as possible under your current financial situation.