Children's Dentistry – New Bedford, MA
Putting Young Smiles on the Right Track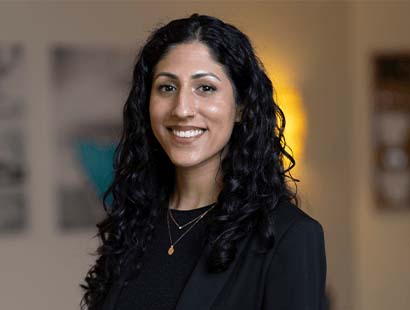 One of the best things you can do for your child is to start them off with a healthy mouth. Children's teeth and gums are susceptible to tooth decay starting at an early age. From the moment those pearly whites come bursting through the gum line, it's imperative that they stay clean and healthy. If you're on the hunt for a dentist who can monitor the development of your child's teeth and offer a kind and welcoming environment, there's no better place than Clear Coast Dental. Our team of dental professionals know exactly what your child needs whether they need treatment for a cavity or a "high five" for good oral habits at home. To get your child starting on a path to outstanding oral health, call us to schedule an appointment.
The Importance of Oral Health at an Early Age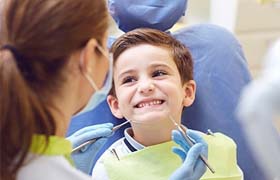 Naturally, your child goes from this adorable infant with a gummy smile to a toddler with teeth continually sprouting through the gum line until they're around the age of 3. Their baby teeth need proper care to ensure their permanent teeth come in healthy and strong.
Throughout the process, tooth decay is one of your child's biggest enemies. While it may seem hard to combat, by keeping your child's mouth clean with at-home brushing and flossing, as well as regular dental checkups and cleanings, you can keep tooth decay away.
Young teeth need special attention, and when your child is having a hard time focusing on the tasks associated with good oral hygiene, it can be difficult trying to keep their teeth and gums healthy. This is why at Clear Coast Dental, our children's dentistry services can help.
What the First Visit Looks Like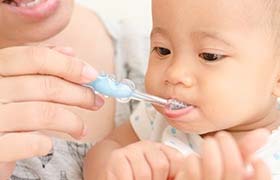 The American Academy of Pediatrics (AAP) recommends that you schedule your child's first dental appointment by the time they turn a year old or their first tooth comes through. Their initial visit will be more about establishing a relationship with one of our dentists.
Our expert professionals are trained to monitor and treat children's teeth as they develop. Unlike adult teeth that are already in place, a child's mouth goes through significant changes throughout childhood and into adulthood. From battling tooth decay to orthodontics, these early years, as well as the teenage and early adulthood years can have you and your child visiting our office for various treatments.
That's not to say all children need dental work, but our dentists believe that if we can get ahead of a potential problem with the help of various treatments, it is best to combat it beforehand instead of waiting until the problem becomes worse.
From dental sealants to fluoride treatment, we want your child's teeth to be in the best shape. We also want your child to feel comfortable with us, which is why we encourage these early visits. It allows you, your child, and our team to develop a mutual, respectful, and comfortable relationship, and encourages your child to ask questions about tools and treatments.
We know the dentist office can be a scary place for children (and adults), so we strive to eliminate that fear with these first few initial visits.
Preventable Issues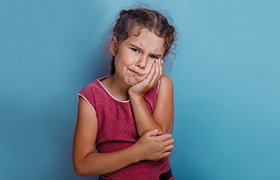 There are a variety of dental issues that can be prevented with regular dental checkups and cleanings. Remember, your child should see a dentist every six months just like you do, so don't forget to schedule their next appointment before you leave our office!
Some of these preventable issues include:
Tooth decay – This can be addressed with proper oral hygiene habits and the use of fluoride treatment.
Cavities – To prevent these from happening, dental sealants can be applied to the back molars (the hardest to reach and clean for children).
Nightguards – If your child is prone to teeth grinding or clenching, a nightguard can protect their teeth from wear and tear.
TMJ therapy – To keep your child's jaw from feeling continual pain, TMJ therapy is offered here at Clear Coast Dental.
Tips to Helping Your Child Practice Good Oral Hygiene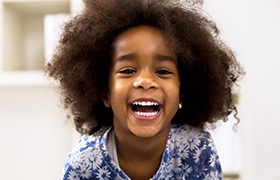 Getting your child to practice good oral hygiene at home isn't always easy. We know they'd rather be watching their favorite cartoon, but ensuring their teeth and gums are properly cleaned is crucial to preventing future problems. Some ways you can help and encourage your child at home include:
Let them pick: When it's time to pick out a new toothbrush, take them to the store with you and let them pick one out. You'll want to make sure it is a small, soft-bristled head, but with all the different playful and colorful brushes out there, let them have the independence of picking their own. The same goes for toothpaste, only you'll want to make sure it has fluoride in it.
Offer them a reward: Kids love receiving rewards for doing something good, so set up a system. If they brush and floss their teeth for an entire week or month, reward them with a trip to the park or movies. Stickers also work for younger children but try to avoid rewards that include a lot of sugar!
Turn up the music: Who can resist a dance party? Instead of your children brushing their teeth in their own bathroom, bring them into yours or join them for a family brushing and flossing time. Better yet, liven up the routine by turning on some music!
Children's Dentistry FAQs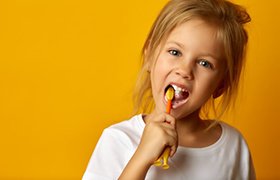 As a parent, your child's smile is the most important thing in the world to you. In order to keep it shining bright, it's imperative that you work with your son or daughter to keep their smile shining bright. However, you might have some further questions about children's dentistry, even after reading all the information on this page. That's why we've answered some of the children's dentistry questions that we hear parents ask the most often.
Are My Child's Baby Teeth Important?
You might think that since your child's baby teeth (also known as primary teeth) are just going to fall out, that there's not much point in taking proper care of them. However, that is not the case. Primary teeth help your child speak and eat comfortably. They also pave the way for their adult teeth to come in in the right place and at the right angle. If your child loses a tooth too early, whether dur to decay or injury, it could cause the remaining teeth to shift to fill in the gap. This makes the underlying adult tooth grow in at an awkward angle, often necessitating orthodontic treatment.
When Do Children Start Losing Their Teeth?
Your child's primary teeth will begin to fall out to make room for their adult teeth around age six. However, the age at which this occurs can vary by up to a year. When your son or daughter starts to feel a loose tooth wiggle around, remind them that they shouldn't pull the tooth out until it's ready to fall out naturally. Again, losing a baby tooth before the permanent tooth is ready to grow in could result in oral health problems like drifting teeth.
Will My Child Need Their Wisdom Teeth Removed?
The wisdom teeth, also known as the third molars, typically start erupting around age seventeen, although every child is different. Your child won't necessarily have to have theirs extracted. Some people's wisdom teeth never give them any problems at all. In a lot of people, though, wisdom teeth become impacted. In other words, they fail to break through the gumline, resulting in an increased risk of painful infection. Some people's wisdom teeth push against their other molars, causing pain. To prevent these problems, many people elect to have their wisdom teeth removed early on before these issues develop. Our dentists can monitor the growth of your child's wisdom teeth to see if they will eventually pose a problem.
Will My Child Need Braces?
Every child is different. Some kids' teeth grow in perfectly aligned already, so no orthodontic intervention is necessary. On the other hand, many children grow up with misaligned teeth. In addition to being cosmetically unappealing, crooked teeth come with a risk of oral health problems such as temporomandibular joint (TMJ) disorder or an increased risk of tooth decay and gum disease due to their being harder to brush and floss. Like with wisdom teeth, our dentists can evaluate the alignment of your child's pearly whites at every visit to determine whether braces will be required to improve their smile.