Invisalign – New Bedford, MA
Straighten Your Teeth Without Brackets and Wires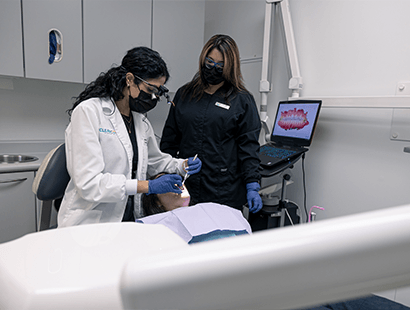 Invisalign has completely changed the field of orthodontic treatment, giving people a way to straighten their teeth without the many drawbacks of metal braces. At Clear Coast Dental, we love helping our patients get great results, comfortably and discreetly, and enjoy all the benefits that come with having a beautifully even smile. If you'd like to know how Invisalign can work for you, give us a call today to schedule a consultation with one of our talented cosmetic dentists in New Bedford!
How Does Invisalign Work?
Invisalign moves your teeth into position through a series of smooth, plastic aligner trays, and each set is usually worn for two weeks at a time. Once we've made sure that Invisalign is right for you, we'll take digital impressions of your teeth that the Invisalign lab will use to custom-make your trays.
Then you'll return about three weeks later to pick up your first set of aligners and we'll put small knobs of tooth-colored material on your teeth. These temporary "buttons" are used to anchor your trays and help them create movement. Next, you'll try in your first set of trays and we'll give you instructions for wearing and maintaining them. Throughout your treatment, you'll return for progress visits every 4-8 weeks to pick up additional sets of trays.
What are the Benefits of Invisalign?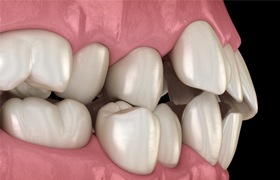 Are You a Good Candidate for Invisalign?
Although Invisalign works for most patients, severe issues may be better addressed by traditional braces. Having said that, Invisalign is usually perfect for mild to moderate crowding, gaps, open bites, overbites, underbites, and more.
Also, Invisalign often works better for adults because they tend to be more disciplined and committed to wearing their trays as directed. Good candidates also need to have reasonably good oral health, so we'll make sure that you don't have cavities or gum problems that need to be addressed first.
If you'd like to know if Invisalign is right for you, start by scheduling a consultation. We'll thoroughly evaluate your needs and recommend the treatment that will give you the best results. If Invisalign is a good option for you, we'll also give you an estimate of your treatment time and answer any questions you have about the process.
Also, it's worth noting that insurance plans that cover orthodontic treatment typically cover Invisalign at the same rate as traditional braces, so we're happy to take a look at your benefits as well. If you're uninsured, we also offer financing options to break up your payments into monthly installments.
Understanding the Cost of Invisalign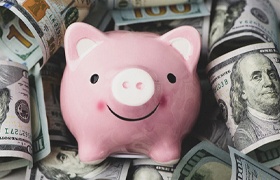 For patients who don't want to show off metal brackets and wires throughout the duration of their orthodontic treatment, Invisalign is an excellent option. It has so many unique benefits! However, it is crucial that you understand the cost of treatment so you don't end up with any unnecessary surprises. To learn exactly how much you can expect your treatment to cost, schedule a consultation with us. In the meantime, here are some things for you to consider.
Factors that Affect the Cost of Invisalign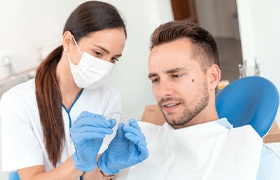 The cost of your Invisalign treatment will vary depending on a few factors. Here are some of the most prominent:
Number of Arches: Most people who undergo Invisalign treatment will have both their upper and lower teeth straightened. However, in some cases, only one arch needs to be addressed. In this situation, the cost is lower.
Complexity: If you have severe alignment issues, your treatment is likely to cost more. Closing a few small gaps is cheaper than correcting a significant bite problem.
Length of Treatment: A longer treatment time means more aligners and a higher cost.
Invisalign VS Smile Direct Club™: Which Costs More?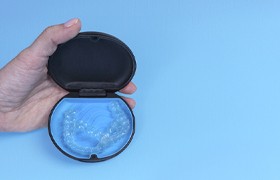 When a patient is looking for a "quick fix," lower budget option, services like Smile Direct Club™ may seem tempting. However, a cheaper cost doesn't necessarily mean that it is the best option. While DIY mail-in aligners are generally less expensive than Invisalign, Smile Direct Club™ has a do-it-yourself approach with little to no oversight from a dental professional. This means additional room for error, and you could even end up with serious issues that will need to be treated by a professional anyway.
With Invisalign, you have the trusted oversight of our dentists for each step along the way. Invisalign is professionally made, uses highly accurate impressions, and results in a more successful treatment overall. The cost difference is worth it for a smooth, stress-free orthodontic treatment.
Does Dental Insurance Cover Invisalign?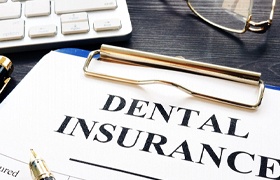 Some dental insurance plans include coverages for orthodontic treatment, so you should check with your insurance provider to see if this is the case for you. Our team is also available to help you understand what your plan consists of. If you have any questions, give us a call!
Options for Making Invisalign Affordable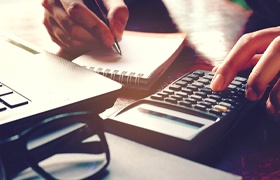 If you don't have doesn't insurance, this doesn't necessarily mean that you'll be left in the dust. Currently, we have a special offer for a free orthodontic consultation that includes an exam and X-ray. We also have an in-house membership that can help you save on treatments completed at the practice. In addition to that, we work with CareCredit – a third-party financing company that can break the cost of your treatment into manageable monthly installments with little-to-no interest. Talk to one of our friendly team members to learn more about your financial options.
To find out exactly how much your treatment will cost, see us for a consultation. We are eager to help you get on a path towards a straighter smile!
Frequently Asked Questions - Invisalign®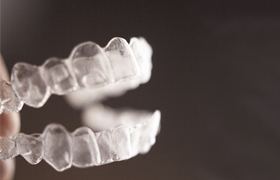 As you prepare to straighten your teeth with Invisalign, Clear Coast Dental wants you to feel comfortable and confident about your upcoming treatment. You've made the right decision and will soon begin to see an improvement in your smile and overall oral health, but before you get started, we've compiled some frequently asked questions about Invisalign that might prove beneficial. Should you have any additional questions or concerns, please contact our office.
How long does Invisalign treatment take?
The average treatment time for Invisalign is between 12-18 months. Much of this depends on the severity of the problem and how committed you are to wearing your clear aligners for 20-22 hours each day. The only time they should be removed is while eating, drinking, or cleaning them.
How often will I need to see the dentist during my Invisalign treatment?
Surprisingly, you will have fewer visits to the dentist during your treatment simply because there is no wire adjusting necessary. With traditional braces, the wires must be tightened every few weeks to forcibly move the teeth; however, with Invisalign, switching your trays gently shifts your teeth, requiring no special visits for adjustment. It is important that you keep your regularly scheduled appointments, as this will allow our team to examine the progress you're making and ensure everything is moving along smoothly.
How do I care for my Invisalign aligners?
Fortunately, cleaning your aligners is quite easy. While you can go out and purchase the special Invisalign cleaning system, you can also opt for a more at-home approach. With a soft-bristled toothbrush, clear antibacterial soap, and lukewarm water, you can brush off any dried saliva and harmful bacteria from your aligners. It's important to remember to never use hot water on your trays, as it can warp the plastic.
You should also remember to keep your aligners in a protective case when taking them out to eat or drink. This will protect them from bacteria floating around in the air as well as potential damage.
What happens after my Invisalign treatment?
Once you are finished with Invisalign treatment, you'll need to wear a retainer for an allotted amount of time. Typically, a retainer is a lifelong commitment, but in the beginning, you'll be expected to wear it all day, every day. Eventually, you'll only be expected to wear it at night while you sleep, but this will prevent your teeth from shifting back into their original position.
It's important that you wear your retainer so that the investment you made in your new smile isn't all for nothing.
Do I have to wear Invisalign aligners all day?
We understand that Invisalign offers a much more flexible option; however, it also requires a greater level of responsibility. It is required that you wear your aligners at least 20-22 hours each day. The only time you should remove your Invisalign is while eating, drinking, or cleaning your trays. It is imperative that you wear them the appropriate amount of time, so you don't run the risk of delaying your treatment.