Dental Implant Failure & Salvage – New Bedford, MA
Treatment for Loose & Painful Dental Implants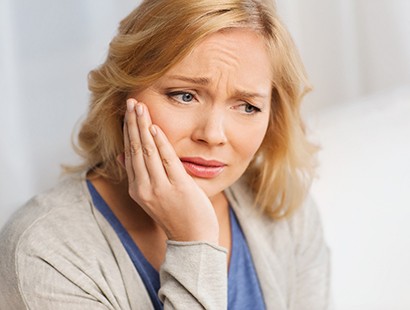 Dental implants are a strong and reliable tooth replacement option that lasts most patients a lifetime. However, although rare, dental implant failure is still a remote possibility. Dental implants can fail soon after their placement or sometimes many years after the fact, but there is a chance to salvage your smile with early treatment! We want to see you right away if your dental implant feels loose, sensitive, or painful to see if you need dental implant salvage. Read on to learn more and give us a call today if you're concerned about your dental implant.
Why Do Dental Implants Fail?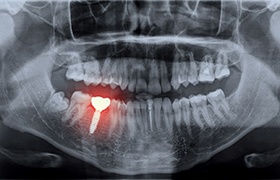 There are very few things that can cause dental implants to fail. The most common reason for a failed dental implant is peri-implantitis. This infection in the gums around the dental implant is often brought on by poor oral hygiene, and can destroy the connective tissues that help hold the dental implant in place. If you don't maintain good oral health, peri-implantitis can develop not long after your dental implant placement surgery, decades after their placement, or any time in between.
Other, less common causes of dental implant failure include sports injuries, physical accidents, failed osseointegration, severe teeth grinding, and certain medical conditions or treatments.
Symptoms of a Failed Dental Implant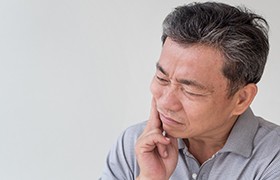 Your dental implant may be failing if you experience the following around your dental implant:
Soreness or sensitivity
Discharge
A loose or wobbly feeling
Bleeding or swelling gum tissue
How Dental Implant Salvage Works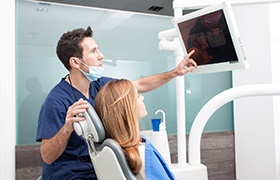 Dental implant failure needs to be treated right away in order to save your smile. Call us immediately if you experience any of the above symptoms and schedule an appointment with us right away. We'll perform a thorough examination of your smile and capture X-rays and imaging as needed. In some cases, we may be able to provide dental implant salvage treatment through periodontal therapy. However, in more serious cases, we'll refer you to one of our trusted local implant specialists to ensure you get the expert care you need to save your dental implant.