Dentures – New Bedford, MA
Bring Back Your Beautiful Smile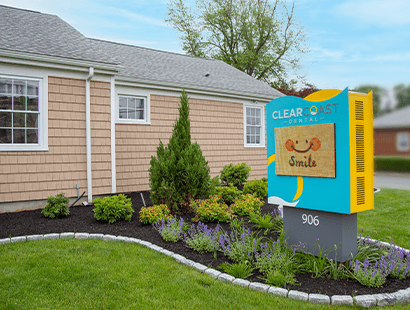 At Clear Coast Dental, we understand better than most people how annoying and embarrassing it can be to live your life without a full set of pearly whites. In addition to being a cosmetic nuisance, missing teeth also contribute to oral health problems and even issues with your general health. If you can't chew crunchy foods like fresh produce, your overall health is going to suffer. That's why we offer a solution: dentures. Keep reading to learn more about how dentures can benefit you and bring back your beautiful smile.
Why Choose Clear Coast Dental for Dentures?
Replace Any Number of Missing Teeth
Restorations Custom-Made for Each Patient
Smile and Eat with Complete Confidence Again
What Are Dentures?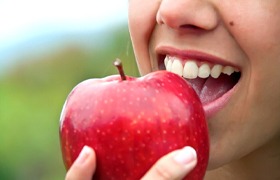 A denture is a set of ceramic teeth anchored onto an acrylic base the color of your gum tissue. They are made to look completely natural, like you never lost any of your pearly whites. While the dentures your grandparents wore may have felt or looked unnatural, modern advancements in dental technology have made today's dentures resemble natural teeth almost perfectly.
There are three types of dentures currently available:
Full Dentures
A full denture sits snugly on top of your gums. It contains an entire row of ceramic teeth to replace your top and/or bottom arch of missing pearly whites. To ensure that your restoration fits your mouth perfectly, one of our dentists will take detailed impressions of your mouth and send them away to a dental lab, where your new teeth will be crafted by a team of experts. Full dentures should stay in place thanks to the natural force of suction against your gums, but if you need a little added security, you can always buy a denture adhesive.
Partial Dentures
Missing even a few teeth can make smiling, eating, and talking embarrassing. That's why we offer partial dentures, which are designed to replace as many teeth as you're missing. Your new teeth will be attached to a metal framework, which hooks onto clasps placed on your remaining natural teeth, fitting into your smile like the missing piece of a puzzle. Each of the ceramic teeth will be customized so that they mimic the rest of your smile.
Implant-Retained Dentures
If you're looking for a longer lasting and more secure method of tooth replacement, we can place a few dental implants and attach a full or partial denture to them. The titanium posts then fuse to the jawbone, creating a sturdy foundation for your new teeth. Because the implants act as the roots of your teeth, they stimulate your jawbone to promote new growth, preventing your facial muscles from sagging and keeping you looking young.
Benefits of Full and Partial Dentures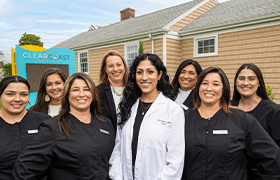 Here are some of the advantages that full and partial dentures offer:
A restored ability to eat, speak, and smile
Improved self-confidence and overall appearance
Custom-made to perfectly resemble your natural smile
Improve oral health and general wellness (since you can once again eat a healthy diet of various crunchy foods like vegetables)
A long-lasting solution to full or partial tooth loss
Benefits of Implant-Retained Dentures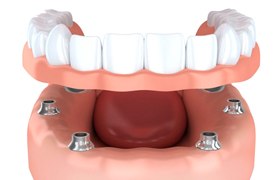 Implant-retained dentures in particular offer their own set of benefits, which include:
A more natural feel, since implants replace the roots of your teeth, not just the crowns like conventional dentures
Less likely to slip around or lose their fit over the years
No learning curve when eating – just chew like you used to when you had all your natural teeth
Jawbone stimulation to keep your face looking youthful and vibrant
No sore spots on the gums from ill-fitting traditional dentures
Are you ready to replace your missing teeth and improve your smile and overall quality of life? Then contact us today to schedule a consultation to see if dentures are just the thing your smile needs!
Understanding the Cost of Dentures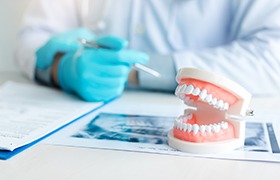 After reading the information above, you're probably more excited than ever to start rebuilding your smile. However, you may want to know how much it'll cost to get dentures in New Bedford before you decide to move forward with the process. At your consultation, our team at Clear Coast Dental will conduct an oral examination and explain which factors will affect the final price. Following the appointment, you'll have a better understanding of what you can expect to pay for your treatment.
Factors that Affect the Cost of Dentures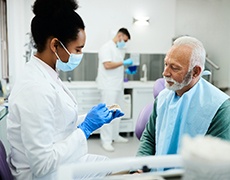 Several factors can influence the cost of dentures in New Bedford, including:
Any preliminary work needed beforehand (i.e., tooth extractions, periodontal therapy, etc.)
The number of teeth you're missing
Type of acrylic used for the base (the part that's dyed to match the color of the gum tissue)
The materials your denture will be made of (usually porcelain or acrylic)
Are you on a budget? If so, you may be tempted to opt for cheaper dentures. Even though the upfront cost is certainly lower, they tend to break easily and require replacement much sooner than you'd expect. That's why quality should always be of utmost importance, regardless of the cost.
Are Implant Dentures More Expensive?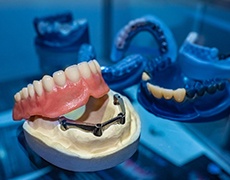 Short answer: yes, implant dentures are generally more expensive than traditional ones. However, there's a good reason for that. They require oral surgery and the placement of multiple dental implants, making them more reliable for everyday use since they do not shift out of place. Many patients find that this method of tooth replacement is well worth the investment because you can reap several incredible benefits. Not only do implants stimulate the jawbone, but they can last decades (sometimes even a lifetime) with proper care and maintenance. That means you won't have to worry about replacing your dentures nearly as often!
Does Dental Insurance Cover Dentures?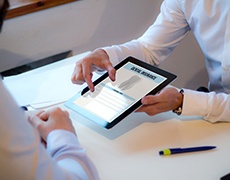 Dentures are considered a major procedure, which is why most dental insurance plans will cover about 50% of their cost. Of course, every policy is unique, meaning the amount of coverage given will vary from patient to patient. If you have any questions about your plan, you contact your insurance provider or ask our dental team for assistance. We will gladly review the details of your policy and do everything possible to maximize your benefits and significantly reduce your out-of-pocket expenses.
Other Options for Making Dentures Affordable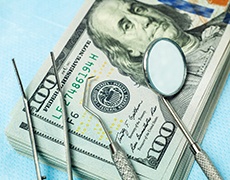 We understand not everyone may have dental insurance, which is why we offer additional financing options to make your dental bills much easier to manage. Here's what's available to you:
Dental Membership Plan – You can begin using your benefits on that same day that you join. For an affordable price, you'll get access to preventive services and discounts on other services like dentures.
CareCredit Financing – With this option, you can split up the total cost of your treatment into smaller, budget-friendly monthly installments. Some options even come with little to no interest!
Are you ready to get started on your journey towards a beautiful, complete smile? Contact us today to schedule a consultation – it's completely FREE for new patients!
Denture FAQs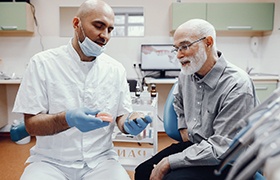 Extensive tooth loss can affect more than just your appearance – it can affect your quality of life as well. Luckily, getting dentures in New Bedford can bring back your beautiful smile and help you enjoy life just like you used to. But before committing to the process, you probably have several questions that you'd like answered. To help you out, our team at Clear Coast Dental has decided to answer some of the most common questions we receive from patients. If you'd like to speak directly to a member of our team, don't hesitate to contact us!
Can I Sleep with My Dentures?
When you first get your dentures, you'll be instructed to keep them in your mouth for an entire 24 hours, including sleep. However, it's recommended that you take them out every evening after that initial period. Wearing dentures restricts the circulation in your gums, leading to soft tissue irritation and even speeding up ridge resorption. By taking them out every night before bed, you give your gums a chance to recover and get the nutrients they need while you sleep. Additionally, sleeping with dentures is associated with a higher risk of pneumonia and poor oral hygiene.
Will It Hurt to Get Dentures?
Do you need to have teeth extracted before getting dentures in New Bedford? If so, you'll likely experience discomfort following your oral surgery. Luckily, you manage it by taking your prescribed pain medication as directed. When you first get your dentures, you might have mild irritation while your mouth adjusts to the new appliance. The discomfort will eventually fade with time. For some people, it could take several months before the feeling disappears.
Is It Hard to Talk with Dentures?
Initially, you may find it challenging to talk with dentures because your mouth isn't used to speaking with them. That means for the first few weeks, you may develop a slight lisp or speech impediment. Fortunately, you can speed up the adjustment period with lots of practice. Reading out loud, having more conversations with loved ones, and repeating difficult-to-pronounce words are good exercises to follow. You can also use a small amount of adhesive to stabilize your dentures and make your speech a bit clearer while you're still adjusting.
Can Dentures Reduce Life Expectancy?
It may surprise you to learn that wearing dentures can reduce your life expectancy by up to 10 years. Since the bite force in traditional dentures is much weaker than that of real teeth, patients may avoid certain healthy foods like apples, pears, carrots, and nuts. As a result, they often suffer from malnutrition and weight loss. Luckily, dental implants are an excellent solution to consider. They have almost the same chewing power as that of natural teeth, allowing you to maintain a varied diet.