Teeth Whitening – New Bedford, MA
Brighten Your Grin in Record Time
Has a lifelong love of tea or coffee discolored your pearly whites? Has a tobacco habit rendered your smile more stained than you'd like? If so, you might benefit from a professional teeth whitening treatment here at Clear Coast Dental. We offer both in-office treatments and take-home kits so that you can brighten your grin in record time. If your grin is looking less than stellar, contact us to learn whether teeth whitening is right for you.
Why Choose Clear Coast Dental for Teeth Whitening?
In-Office and Take-Home Kits Available
Treatment Plans 100% Personalized for Every Patient
Smiles Guaranteed to Be 6-8 Shades Whiter
How Teeth Become Discolored
There are two types of teeth stains: extrinsic and intrinsic.
Extrinsic stains occur on the surface of the tooth. They are typically caused by factors such as consuming darkly pigmented foods and drink, tobacco use, or poor oral hygiene. Fortunately, extrinsic stains normally respond well to regular dental cleanings and whitening toothpaste.
In-Office Whitening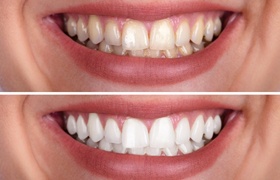 If you want a brighter smile yesterday, then in-office whitening is the right treatment for you. More often than not, it can be completed in one appointment that takes an hour or less.
Take-Home Whitening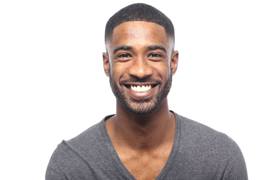 If you would prefer to achieve more gradual results from the comfort of your own home, then take-home whitening is the treatment for you. We'll take impressions of your mouth to design your custom trays that will fit snugly over your teeth. You'll fill these trays with our powerful whitening solution and wear them for a prescribed amount of time each day, usually around half an hour. While you're wearing the trays, you can do pretty much everything you want, except eating. You could surf the web or binge-watch your favorite show. You should see dazzling results after just a couple of weeks.
Does Teeth Whitening Work for Everyone?
For the most part, teeth whitening should work for the majority of patients. However, because it's a cosmetic treatment, we'll have to make sure that you are in adequate oral health and that your mouth is free of decay beforehand. Most tooth stains, whether intrinsic or extrinsic, are able to be removed through professional teeth bleaching. It should be noted, though, that teeth whitening will not work on restorations like porcelain veneers or dental crowns.