Preventive Dentistry – New Bedford, MA
Protecting New Bedford Smiles of All Ages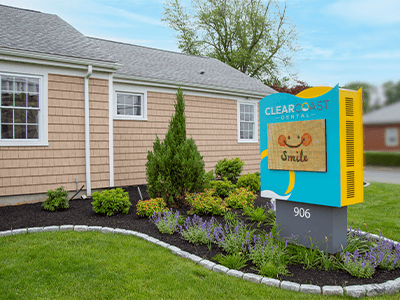 At Clear Coast Dental, Dr. Akbar, Dr. Herr, and Dr. Luccio like to take a proactive approach to dental care. Rather than waiting for a problem to pop up, they can use the services listed below to stop decay and gum disease before they even start! That way, we can keep your smile healthy and your dental office visits nice and short for years to come. To schedule your or your child's next preventive appointment, give us a call today.
Why Choose Clear Coast Dental for Preventive Dentistry?
We've served New Bedford families for 30+ years
Treatment plans designed for every unique smile
Easy to schedule, easy to pay
Dental Checkups & Teeth Cleanings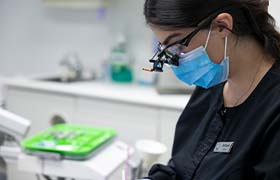 Checkups allow our team to keep a close eye on your dental health so we can catch any decay or damage as early as possible. After performing a thorough exam, if our team finds any issues with your teeth or gums, we'll go over your treatment options so we can take care of them right away. Before you go, you'll also receive a refreshing cleaning, which will help remove stubborn plaque and tartar from your teeth (particularly from those hard to reach areas in your mouth).
Learn More About Checkups and Cleanings
Children's Dentistry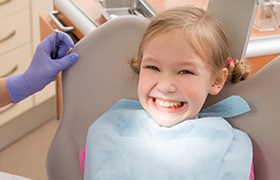 We pride ourselves on being a true family dental office, in that you, along with any little smiles you might have at home, are always welcome! With our younger patients, our goals are to show them that dental care is nothing to fear while also safeguarding their teeth against cavities. We'll treat your child like they are one of our own, and using regular exams, cleanings, fluoride treatments, and dental sealants, we'll put them on the path for a lifetime of healthy smiles!
Learn More About Children's Dentistry
Dental Sealants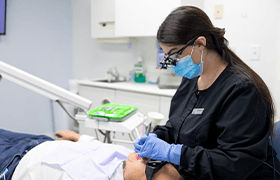 Due to the position of the back teeth (molars), they can be very tricky to clean, which is why they are the most susceptible to developing cavities. This is especially true for children who are still learning how to brush! With a dental sealant, however, we can quickly shield these teeth from harmful plaque and bacteria by placing a thin resin barrier over them. Sealants are practically invisible, but they can provide up to 10 years of round-the-clock cavity protection.
Fluoride Treatment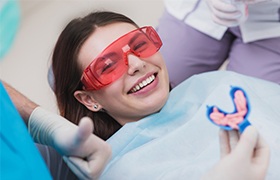 Your teeth's enamel is made of minerals, and bacteria in your mouth is constantly working to break it down. Fluoride is a mineral found in many kinds of toothpaste and community water sources, and when it's exposed to the teeth, it actually replaces any lost minerals to strengthen the enamel. We can apply a fluoride varnish directly to the teeth to help keep our patients cavity-free between appointments. This is excellent for both children and adults who are prone to developing decay.
TMJ & Bruxism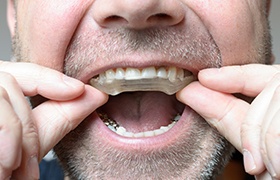 For many people, daily stress due to work and family causes them to unconsciously grind their teeth while they sleep, which is also called bruxism. This can severely damage the enamel, strain the jaw, and even cause chronic headaches if left untreated! With a nightguard, however, we can help our patients rest easy and protect their teeth at the same time. It's a small mouthguard worn to bed that prevents the teeth from grinding together, and they are always custom-made to guarantee a comfortable fit.
Learn More about TMJ & Bruxism
Oral Cancer Screening
Thousands of people lose their lives to oral cancer every year, and shockingly, up to 25% of new cases aren't people who use tobacco or drink excessively. Oral cancer can happen to absolutely anyone, and to make sure our patients are able to get treatment as quickly as possible if necessary, we perform an oral cancer screening as part of every checkup. We'll take a close look at your mouth and the surrounding area for any growths or sores, and if we find something suspicious, we'll quickly arrange for you to get a biopsy and diagnoses.
TMJ Treatment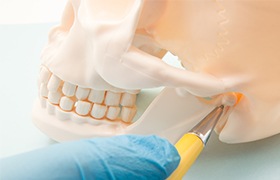 Does your jaw hurt whenever you move it? Is it stiff, or does it pop and click all of the time? If so, then you might have a strained or misaligned TMJ, which is also known as the temporomandibular joint. These tiny hinges are located under your ears, and they allow your jaw to move fluidly in all directions. For patients dealing with this kind of problem, our team can use therapeutic mouthpieces to rebalance the bite and Botox injections to quickly calm spasming muscles, improving function and relieving pain at the same time.
Dry Mouth Causes and Concerns
Dry mouth is more than uncomfortable; it can be damaging to your smile. Whether the side effect of medications or genetics, dry mouth can allow harmful bacteria to flourish, leading to cavities, gum disease, and other oral problems. In addition to your healthy habits at home like sipping water and maintaining healthy oral hygiene, we can recommend specialized toothpaste and mouthwash that compensate for dry mouth and also provide a fluoride varnish for your teeth for added protection.