Dental Implants — New Bedford, MA
The Superior Tooth Replacement Option
It's no understatement to say that dental implants have completely changed the way dentists are able to replace missing teeth. These restorations are so lifelike and durable that they might as well be real teeth! Here at Clear Coast Dental, we can use this state-of-the-art technology to permanently fill the gaps in our patients' smiles, renewing their confidence and bite at the same time. If you're ready to turn your tooth loss into a distant memory, implants are by far the best way to do it. To learn more and see if this treatment would be a good fit for you, contact us today.
Why Choose Clear Coast Dental For Dental Implants?
Partnered with New Bedford's Best Oral Surgeons
Able to Replace Any Number of Missing Teeth for a Lifetime
Reasonable & Honest Fees with No Hidden Charges
What Are Dental Implants?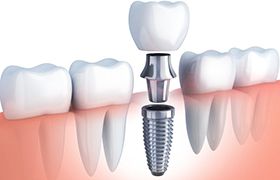 Dental implants are designed to replace the entire structure of a tooth, not just its crown like dentures and dental bridges do. They consist of three main parts: a dental implant post, an abutment, and a custom-made restoration. The small titanium implant post is placed into the jawbone to replace the roots of your missing tooth. Not only does this anchor your new tooth into place, but it gives thitem unmatched stability, comfort, and the potential to last a lifetime. A small connector piece called the abutment is placed on top of the post to secure your final restoration into place. This custom-made crown, bridge, or denture will be precisely crafted out of high-quality materials, so it will blend in seamlessly with the rest of your pearly whites. When you replace missing teeth from the roots up, you get a smile that looks, feels, and functions just like natural!
The Dental Implant Process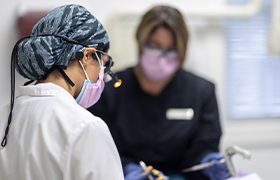 Unlike getting dentures or a dental bridge, dental implants are placed with a unique multistep process. While each patient's treatment plan will vary based on their unique needs and goals, here are the general steps you can expect:
The initial consultation
Any needed preparatory work, such as tooth extractions, bone grafting, or gum disease treatment
Implant placement surgery
Placement of abutments (little metal pieces that anchor your restoration onto your implants)
Design and placement of your permanent restoration (a crown, bridge, or denture)
In order to make sure that our implant patients receive the best possible care at all stages of treatment, we rely on a network of local oral surgeons to place their implants. Every one of them has years of specialty training and the experience of placing countless implants under their belts, ensuring that our patients' new smiles will have a strong and sturdy foundation. After a patient has had time to heal from the placement procedure, they'll return to Clear Coast Dental to receive their permanent restorations.
Benefits of Dental Implants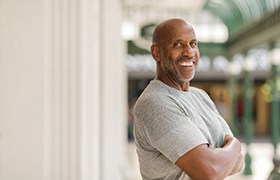 Unmatched Security:The reason dental implants are so unique is that they replace an entire tooth both above and below the gum line. A small titanium post is placed into the jawbone to mimic the root structure of a tooth. Other treatments only bring back the part of the tooth you can see. As a result, implanted teeth are much more stable and secure compared to other solutions, allowing patients to eat basically whatever they want with ease.
Aesthetics:Dental implants are always topped with custom-made ceramic restorations. They don't have any metal or plastic attachments needed to keep them stable within the mouth, so they're able to blend seamlessly into any smile.
Bone Retention:The jawbone naturally starts to atrophy after tooth loss, and regular bridges/dentures can do nothing to stop this. Dental implant roots, however, actually stimulate the jawbone and encourage fresh blood flow to the area. This enables the bone to maintain its shape and strength, which in turn helps a patient have a more healthy and youthful appearance over time.
Longevity:With standard oral hygiene, a dental implant can easily last for 30 years or more. In many cases, a patient is able to rely on one for the rest of their life.
Who Dental Implants Can Help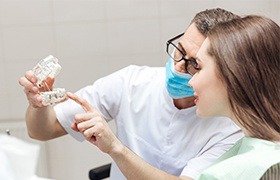 One of the best things about dental implants is that they can reliably help patients dealing with any degree of tooth loss! Whether you're dealing with a single missing tooth, several missing teeth, or an entire arch is missing, we can rebuild your smile with dental implants.
Missing 1 Tooth
Instead of filing down the surrounding teeth to hold a traditional bridge, one missing tooth can easily be replaced with a single dental implant. One dental implant post topped with a custom-made crown will be placed where your missing tooth was, seamlessly filling in the gap without altering the nearby teeth.
Missing Multiple Teeth
For patients who are missing several teeth in a row, we can use an implant bridge. One dental implant will be placed on either side of the empty space in your row of teeth. Between them, your new replacement teeth with be secure in order to literally bridge the gap. Implant bridges can typically replace four missing teeth in a row. If your missing teeth are in different parts of your mouth, we may recommend a partial implant denture.
Missing All Teeth
With only 4 to 6 strategically placed implants, a patient can get a reliable denture that they don't ever have to worry about shifting around in their mouth. Implant dentures enable patients to have a much stronger bite compared to traditional removable ones, helping them eat a wider variety of foods and improve their overall health in the process.
Understanding the Cost of Dental Implants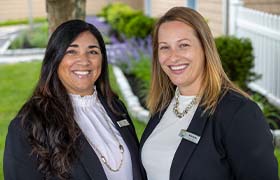 Because dental implants can be customized based on each patient's unique situation, there is no set cost for the procedure. Factors such as how many implants a patient needs, where they are located in the mouth, and what kind of restoration is used can all influence the final price.
While implant restorations do tend to cost more upfront than other traditional options, they normally end up being the better financial choice over time. Because they last so long (30+ years or longer), patients usually end up spending much less on implants compared to regular bridges and dentures, which typically have to be completely replaced every 5-7 years.
Types of Dental Implants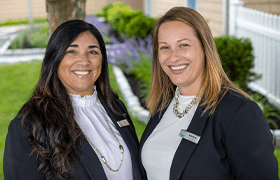 The number of teeth you're missing is a major factor in the cost of your treatment. For example, it should go without saying that a single implant post restored with a dental crown will cost significantly less than four to six posts securing a full denture. Dental implants can also be made from various materials and placed at different angles. All of these factors greatly impact the cost of your tooth replacement. During your consultation, your implant dentist in New Bedford can go over the details of your treatment plan and lay out a personalized cost estimate.
Stages of Dental Implant Treatment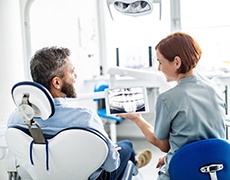 You won't have to pay for the entirety of your treatment at once. The dental implant process is split up into several procedures over the course of a few months, with each of them incurring their own unique cost. This allows you to pay for your new smile one procedure at a time.
Are Dental Implants Worth the Investment?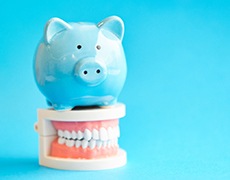 Yes, dental implants are absolutely worth the investment! They have the ability to last for decades, making them a better long-term solution than alternative treatments that have to be replaced every few years. They also deliver unmatched benefits, such as incredible sturdiness, lifelike appearance, and promotion of new jawbone growth. Most of our patients who have received dental implants in New Bedford have said they were well worth the cost.
Does My Dental Insurance Cover Dental Implants?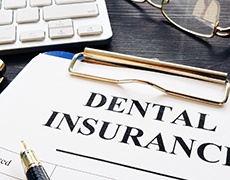 Many dental insurance carriers unfortunately do not cover the cost of dental implants. However, you'll have to get in touch with a representative from your company to be sure. Our team will be more than happy to help with that process. Even if your plan doesn't cover the implants themselves, it might mitigate the cost of preliminary treatments or your final restoration. We can help you explore various payment options, such as low- or no-interest loans through CareCredit.
Dental Implant Technology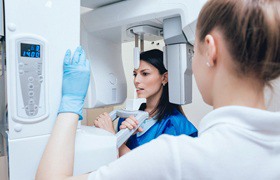 During your dental implant consultation, we will likely want to perform a CBCT scan. Our CBCT technology works similarly to an X-ray machine, but the images it produces are much more detailed. They will allow us to get an in-depth look at your remaining teeth, your jawbone, your nerves, and your connective tissues. Armed with that information, we can determine whether you are a viable candidate for dental implants. The dentist who performs your implant placement surgery will also find the scan valuable because it will allow them to plan your procedure in a way that minimizes the risk of complications.
Dental Implant Failure & Salvage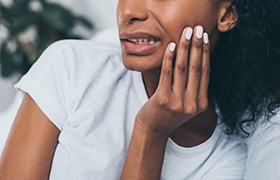 With an impressive success rate of 95% even 10 years after placement, it's not likely that you'll experience dental implant failure. However, we still believe you should be informed and prepared just in case you begin to experience any problems with your smile! If your dental implant begins to hurt or feel loose, or if you begin to experience any other symptoms in your mouth that concern you, we encourage you to call us right away. We'll want to see you for an evaluation to determine if you need dental implant salvage treatment.
Learn More About Dental Implant Failure & Salvage
Dental Implant FAQs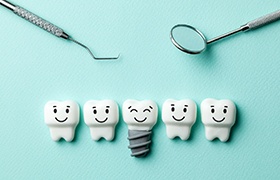 Dental implants are a lifechanging tooth replacement option for people who are missing one or more of their teeth. They are quite an investment, so it pays to be well-informed. Here are the answers to some of the most common inquiries that we receive about dental implants in New Bedford. If you don't see the information that you're looking for below, don't worry. Give us a call and we'd be more than happy to answer your questions and get you started with an initial consultation.
How Long Do Dental Implants Last?
This will depend on the health and lifestyle choices of the patients. To ensure than dental implants last, it's crucial to brush, floss, and rinse with a mouthwash daily, as well as attend regular cleanings and checkups. Avoid chewing on anything that is particularly hard and sticky. With proper maintenance, implants can last upwards of 30 years! This is several times longer than the average traditional bridge or denture.
Does Getting Dental Implants Hurt?
The jawbone doesn't have very many nerve endings, and your mouth will be numbed with a local anesthetic before the start of your procedure. You will also most likely be sedated which will lower your body's ability to register pain. Ultimately, you shouldn't feel any discomfort while the surgery is taking place. However, your mouth may be sore for a few days afterwards. To manage discomfort, take prescribed and recommended over-the-counter pain relievers as directed.
Will I Have to Take Off Work for Dental Implant Surgery?
Many patients only need to take one or two days off work to get dental implants. If your job is physically demanding, you may want to take off three to four, as heavy exercise can divert blood from the implant site and delay healing. Everyone is different, and your dentist will be able to give you a more specific recommendation based on your unique case.
Can I Get Dental Implants If I'm Diabetic?
If your diabetes is under control, your odds of dental implant success are generally comparable to those of nondiabetic patients. Uncontrolled diabetes and chronic high blood sugar can slow down the healing process, making it more difficult for your implants to integrate with the jawbone. If you are interested in replacing your missing teeth with dental implants, talk to your endocrinologist or primary care physician about getting your blood sugar levels under control beforehand.