Clear Coast Dental Membership Plan – New Bedford, MA
No Dental Insurance? We Have You Covered!
Our Membership Plan Provides The Professional Oral Care You Want at an Affordable Price!
By offering the plan directly to you, we remove the cost and hassle of a middleman. We keep it simple, pass the savings to you, and focus on your oral care!
Benefits start immediately. Joint today, save today!
Includes cleanings, exams, & routine X-rays at no extra cost.
Provides exclusive discounts off other procedures like fillings.
Includes 100% price transparency.
No deductibles, annual maximums, or pre-approvals.
Membership runs for 12 months from the date you join.
Is This Plan Right For Me?
Believe it or not, there are many people who do not get dental insurance benefits—in fact, about 25 percent of the US population. This group includes the self-employed, employees who aren't given benefits at work, retired people, small business owners looking for an option for their employees, and even those who do have dental insurance but would prefer a more affordable alternative. If you are one of these people, the good news is that high quality oral care is still available to you! Our membership plan can give you all the benefits of insurance without the headaches.
Our care plans are customized for YOU and include preventive care at no additional cost.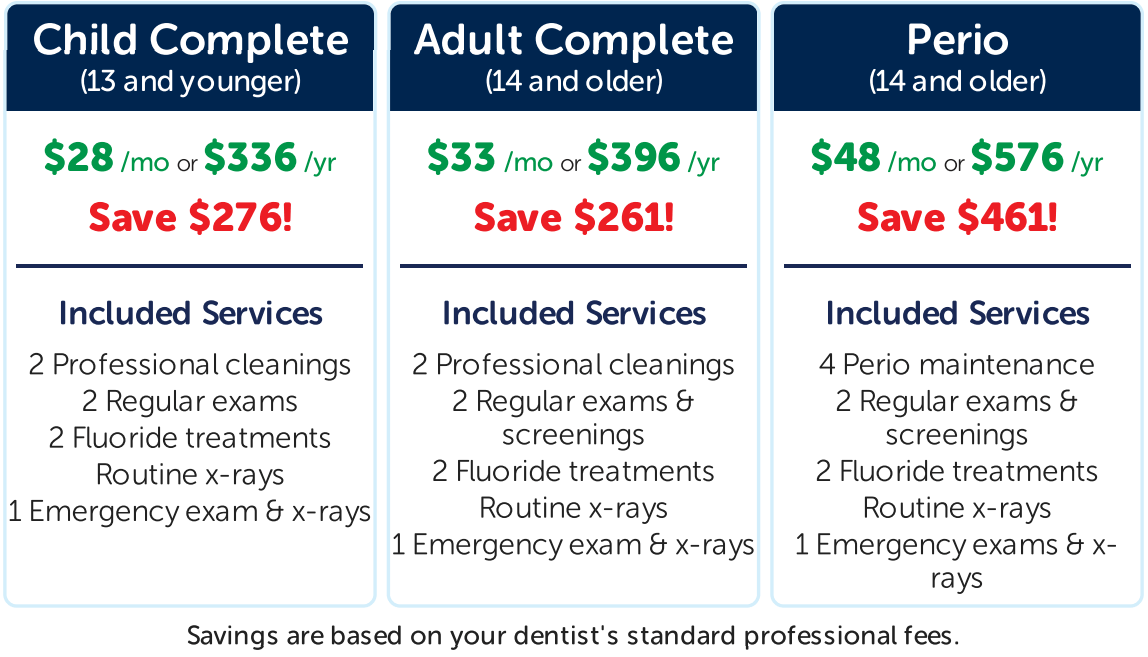 Plus, each care plan includes these additional benefits:
Treatment Discounts: 10% discount off procedures completed at our practice, like fillings.
Family Discount: 10% subscription discount for family members added to your membership.
How do I purchase a plan?
What else should I know?
Our membership plan is not insurance and is not a qualified health plan under the Affordable Care Act.
Our membership plan includes a 30-day money back guarantee. You can receive a full refund up to 30 days after purchase if no benefits of the plan have been used. Refunds after 30 days will be at the discretion of the our practice.
Payment for any treatment(s) not included in the membership plan is due at the time of service.
The membership plan benefits may not be combined with insurance, other offers, or discounts.
Our membership plan does not cover procedures completed by specialists outside our practice.