Cosmetic Dentistry – New Bedford, MA
Make Your Dream Smile a Reality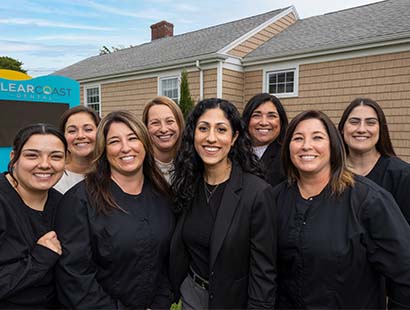 A confident smile can open so many doors in a person's life, but of course, common flaws like stains, chips, cracks, and gaps cause many people to hide their teeth whenever they can. If you've always wanted the kind of smile that consistently lights up the room, you can get it here at Clear Coast Dental. Dr. Luccio and Dr. Herr can sit down with you and put together a completely customized plan for how to give you your perfect smile. Thanks to their expertise and the treatments below, we know you'll absolutely love your results! To get started and schedule a cosmetic consultation, contact us today.
Why Choose Clear Coast Dental for Cosmetic Dentistry?
Treatment plans 100% personalized for every patient
Invisalign: Straighter teeth without metal braces
Look & feel younger with on-site Botox & Juvederm treatments
Porcelain Veneers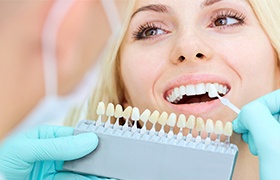 No matter what kind of smile imperfection you're looking to get rid of, porcelain veneers can handle it. These thin ceramic shells are made to resemble pristine white enamel, and they fit directly over the front of the teeth to give them the perfect shape, size, and color. They are fully customizable, so you can get just one or an entire set to completely transform your smile. They only take two appointments to get, and afterward, they can easily last for 20 years or more.
Learn More About Porcelain Veneers
Metal-Free Dental Restorations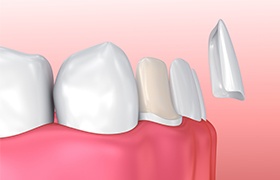 When repairing a damaged front tooth, we want the end result to be strong as well as beautiful so that our patients can smile without a second thought. That's why we only use metal-free restorations in these situations. Made of 100% dental ceramic, these crowns, inlays, and onlays completely replicate the strength and appearance of real enamel. With this material, our team can create a restoration that is virtually indistinguishable from nature, helping our patients recover their oral health and appearance at the same time.
Dental Bonding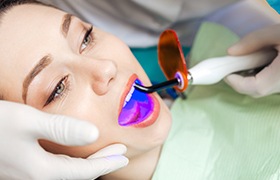 Do you have just one or two teeth with a minor flaw, such as a small spot of discoloration, tiny chip, or thin gap? If so, then cosmetic bonding is the quick, easy, and affordable solution your smile needs. Your dentist will apply a color-matched composite resin to your tooth, and using their skilled hands, they'll sculpt it so that it hides any blemish and completely resembles natural enamel. Most of the time, the treatment only takes an hour or less, and it's completely painless!
Teeth Whitening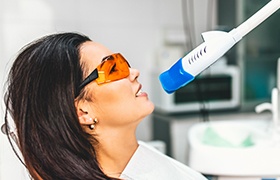 Over time, factors like coffee, wine, tobacco, and even natural aging can cause the teeth to become noticeably stained and discolored, and unfortunately, nothing you'll find at the store can do anything about it. However, with our professional strength teeth whitening treatments, we can restore the glow to your smile in as little as one appointment. We can either give you a complete treatment in-office that takes less than an hour, or we can send you home with your own custom-made kit. Either way, the end result will be a smile that is 6-8 shades brighter!
Gum Recontouring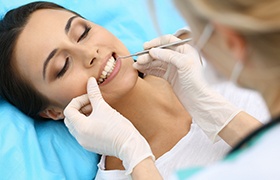 Do you have an overbearing gum line that makes your teeth look too short or stubby? This is a very common issue, and it's one we can correct in just one appointment using our soft tissue laser. It generates an extremely concentrated beam of light we can use to literally reshape the gum line to create a more balanced and better proportioned smile. This treatment is quick, painless, and only takes one appointment to deliver beautiful results.
Botox & Juvederm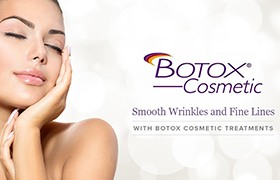 Thanks to special training taken by our team, after we've given you a gorgeous smile, we can help eliminate annoying fine lines and facial wrinkles as well! Botox and Juvederm are two of the most trusted aesthetic treatments in the world, and with just 10 minutes and a few painless injections, we can give you smoother, fuller, and more youthful-looking skin. Now, you only have to go one place whenever you want to look your best!
Invisalign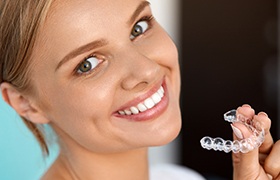 Straightening the teeth can dramatically improve a person's appearance and oral health, but many adults never do simply because they can't imagine facing the world with a mouthful of metal braces. With Invisalign, now they don't have to! This system uses a series of clear plastic aligner trays to gently shift the teeth, and they are so subtle and discreet-looking that no one will notice you're using Invisalign unless you tell them. Plus, the trays are easily removable as well, meaning you can just slip them off whenever it's time to eat or brush your teeth.
ClearCorrect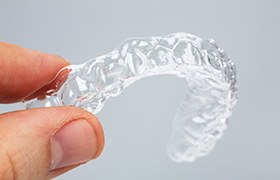 ClearCorrect also helps patients straighten teeth through the use of clear, custom aligners, each one designed to represent a different stage of unique tooth movement. The aligners are made right here in the United States from high-quality, durable plastic, and their removable nature makes it easy for patients to continue enjoying a full diet as they straighten their smiles. Plus, they blend right in when worn, which means most people won't even notice them at all as you go about your day!