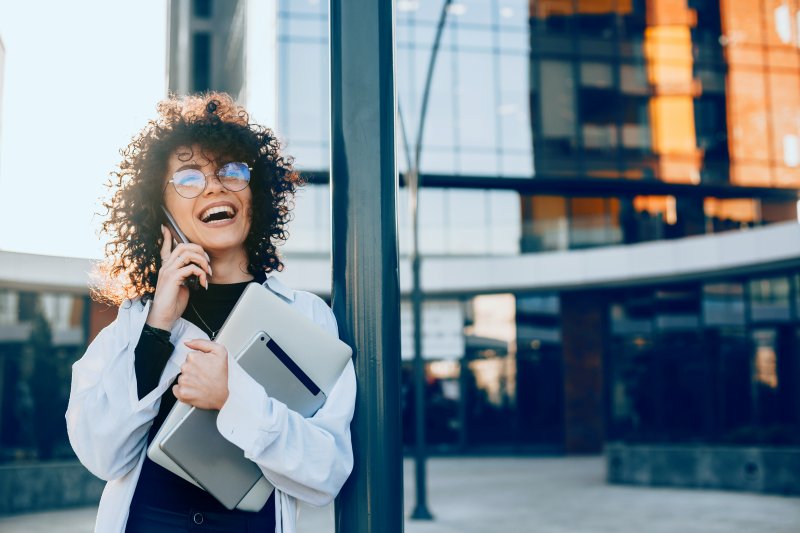 If you're trying to land a new job or get a promotion, then you're likely focused on tasks like updating your resume and getting a new outfit for the position. But have you considered investing in your smile? According to decades of research, having brighter pearly whites can help you make a great first impression, shed several years off your appearance, and improve your professional success. Keep reading to learn how cosmetic dentistry can have a positive effect on your career opportunities!
Can Cosmetic Dentistry Boost Your Professional Success?
Enhancing your pearly whites can have a significant influence on your professional life. Researchers who studied the link between cosmetic dentistry and career success found the following:
People with brighter teeth were more likely to get hired (and were also offered a higher salary).
Those whose smile was perceived as "more attractive" were assumed to be a good fit for a position, even if they were less experienced.
People with straighter teeth are viewed with positive qualities, such as competence and reliability, which are traits many hiring managers seek out.
4 Cosmetic Dental Treatments to Consider
If you're struggling with minor dental flaws—such as chipped, stained, crooked, or misshapen teeth—then you might want to consider speaking with your dentist about cosmetic dentistry. Here are four popular treatments you can undergo to improve your smile:
Professional teeth whitening: Blast away stubborn stains or discoloration with an in-office or at-home whitening treatment.
Dental bonding: Fix minor damages, stains, and gaps with composite resin to sculpt your desired results.
Gum recontouring: By using a soft tissue laser, your dentist can easily remove excess gum tissue to improve the proportion of your smile.
Veneers: Straighten, brighten, and conceal multiple imperfections simultaneously with super-thin porcelain shells for a complete smile makeover.
Which Option Is Best For Me?
To make sure you get the long-lasting results you want, you'll need to schedule a consultation with your cosmetic dentist. They'll be able to assess your situation, understand your smile goals, and discuss your options to help you achieve your dental needs. They'll also walk you through the treatment timeframe as well as the overall cost so that you can make a well-informed decision.
So, if you're interested in improving the chances of your professional success, feel free to speak with your dentist about cosmetic dentistry. Once you've undergone your chosen treatment, you can be sure to enjoy showing off your brand-new pearly whites to boost your social and career opportunities!
About the Author
Dr. Hira Akbar earned her dental doctorate from the University of Pittsburgh. She also regularly seeks continuing education to advance her skills and expertise in various focuses, such as cosmetic care. She offers a wide variety of high-quality and all-inclusive treatments, including teeth whitening, dental bonding, gum recontouring, and veneers. If you'd like to set up a consultation, visit her website or call her at 508-812-9294.