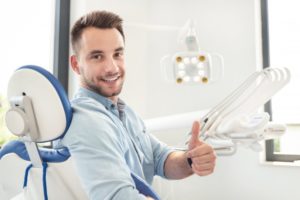 You probably grew up hearing that you should visit your dentist for a routine checkup and cleaning every six months. In reality, this doesn't always happen. From dental fear to financial worries, many people put off receiving the preventive dental care they need to maintain healthy smiles. Here are four of the most common reasons why people avoid the dentist and how you can overcome these obstacles!
1. Dental Fear
Fear of the dentist, or dentophobia, affects an estimated 9 – 20% of adults in the United States. There are many reasons why dental fear is so common, from having a negative past experience with a dentist to being afraid of pain.
In order to conquer dentophobia, you'll need to find a dentist who makes you feel truly at-ease. It also helps if the office itself has a relaxing atmosphere. One easy way to determine if a dentist is right for you is to schedule a consultation. That way, you can get a feel for what your care will be like with a particular dentist before undergoing any procedures.
2. Embarrassment
Many people end up going several years without visiting a dentist. On top of that, they might not have the best at-home brushing and flossing routine. If this describes you, you may feel as if the dentist is going to shame you as soon as you open your mouth.
But that's not true! The last thing your dentist wants to do is make you feel terrible about your smile. Instead of shaming you, they'll simply examine your mouth, let you know what could be improved, and come up with actionable solutions to achieve your goals.
3. No Dental Insurance
Is dental insurance currently out of your budget? This is a common reason for not seeing the dentist. Paying for a checkup now may not seem like a worthwhile expense, but it can potentially save you hundreds or even thousands of dollars down the line.
How so? With a regular exam every six months, your dentist can detect tooth decay, gum disease, and other oral health concerns in the early stages. Plus, the hygienist can clear away plaque that causes these problems in the first place. As a result, you can avoid the costs of treating more advanced dental issues later on.
4. Lack of Symptoms
Just because nothing about your mouth is bothering you doesn't mean you can skip your routine appointments. Oral health problems often don't cause discomfort or other noticeable symptoms until they're progressed quite a bit. By the time your tooth starts hurting, you might need more extensive (and expensive) treatments than you would have if your dentist had been able to diagnose and address the issue during your biannual checkup.
Far too many people avoid the dental care they need, and their smiles suffer as a result. With these tips, you should be able to overcome your dental worries and enjoy a much healthier smile!
About the Practice
Our team at Clear Coast Dental has been serving smiles of all ages in the New Bedford, MA community for more than 30 years. Each of our dentists focuses on creating a comfortable, judgment-free environment as we help patients achieve and maintain healthy smiles. For patients without dental insurance, we accept CareCredit financing and also offer an in-house membership plan that completely covers routine care. To get in touch with our Clear Coast Dental team, contact us by calling 508-812-9294.