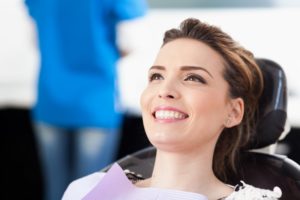 Attending two dental checkups a year is the cornerstone of having a healthy mouth. These regular visits give your dentist the opportunity to see whether you have any oral concerns that need to be treated before they turn into painful, expensive headaches in the future. Your dental checkup should be a pretty straightforward affair, but with these four tips, you can make it much easier and more effective.
1. Communicate Any Fears
Dental anxiety is incredibly common, affecting as many as one in five Americans. If you have any specific fears that have kept you from receiving dental care in the past – such as a sensitive gag reflex, a low pain tolerance, or a bad experience with a previous dentist – let your dentist know right off the bat. They can then adjust their care as needed to ensure you stay comfortable the entire time.
2. Be Honest
It's understandable to want to tell your dentist that you brush and floss twice a day. If you don't actually do that, though, the dentist will easily notice that when they take a close look at your teeth and gums. When you're honest about your at-home oral care routine, your dentist has a better chance of providing the most effective treatment possible.
3. Don't Be Afraid to Ask Questions
Oral health can be difficult to understand at times, and dentists know this. If you feel at all confused or unclear about anything your dentist is talking about, don't hesitate to ask any questions you may have. After all, you don't want to undergo a treatment if you have no idea what to expect or why you need it in the first place. Rest assured that to your dentist, there's no such thing as a stupid question. They'll address your concerns without judgment, as they just want you to be well-informed about your smile's health.
4. Brush and Floss Beforehand
Rigorously scrubbing your teeth clean right before your checkup won't make a huge difference, but it's still a good idea to brush and floss prior to your appointment if possible. When food debris from lunch is still lingering on your teeth, it might be harder for your dentist to spot concerns like tartar buildup. Cleaning your mouth beforehand will also make it easier for the hygienist to professionally clean your teeth and remove surface stains, leaving you with a brighter grin.
With these simple tips, your next dental checkup should be as smooth as it could possibly be. As a result, you'll be able to look forward to a much healthier smile!
About the Practice
Clear Coast Dental has been providing families in New Bedford, MA and the surrounding communities with top-quality dental care for over three decades and counting. Our dentists gladly see patients of all ages, and we aim to create a comfortable, judgment-free environment for each and every patient. To schedule your next dental checkup at our New Bedford dental practice, contact us by calling 508-812-9294.