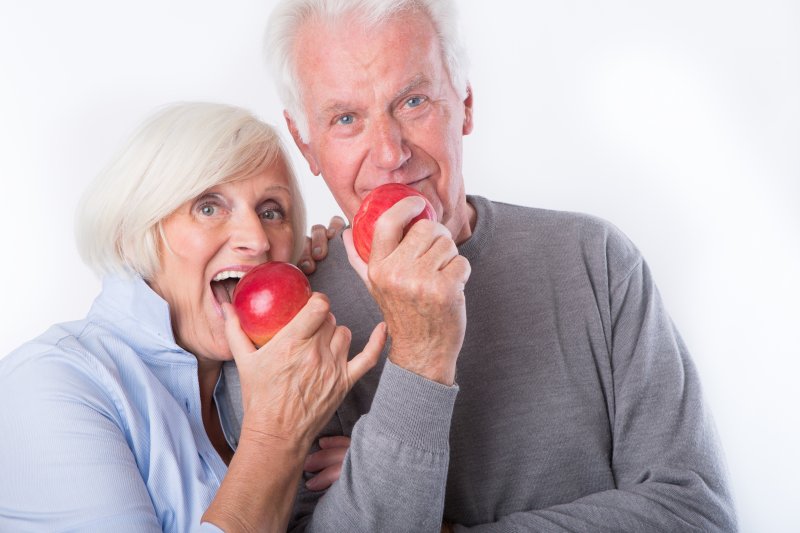 After getting dentures, you might be excited to put your new smile to use. Even though they instantly give you an enhanced appearance, it will take a while to get used to eating with them. Since the prosthetic sits on your gums (as opposed to teeth that are secured into the jawbone), you may initially find it challenging to chew with them. But don't worry – once you adapt and adjust to your new teeth, you'll be able to comfortably enjoy your favorite foods again! Read on to learn a few tips that can make eating with dentures easier.
What Are Dentures?
Dentures are a removable set of ceramic teeth that are custom-made to restore your smile perfectly. They're an excellent solution for patients who are missing some or all of their teeth. Since your mouth is not used to the plastic appliance, you might feel uncomfortable and awkward for the first few weeks that you wear them. During this adjustment period, your facial muscles will adapt to the changes in your bite and altered position of your tongue, lips, and cheeks.
Tips to Make Eating with Dentures Easier
Are you having a hard time eating with dentures? Here are some steps you can take to make it easier:
Chew Slowly
First and foremost, when wearing new dentures, you should take it easy with any food you eat. Start slowly with soft foods that don't require excessive chewing. Applesauce, puddings, cooked cereals, scrambled eggs, and mashed potatoes are just a few nutritious options. With firmer foods, you can try cutting them into small pieces or thin strips before eating them.
Eat Carefully
If you need to bite down on hard food, such as an apple, use your canines instead of your front teeth. Otherwise, you can cause your dentures to slip and slide around, hurting your gums. Make sure you distribute your food evenly on both sides in the back of your mouth when you chew. It will help keep your dentures in place while you eat!
Practice, Practice, Practice
Ultimately, the best way to get comfortable eating with dentures is with lots of practice. It could take a few days or weeks for you to adjust, but you will get there eventually! As you make progress, it will become easier and you can start eating firmer foods. However, you should remain cautious of hot or cold foods and any meals that contain shells or bones.
Avoid Sticky and Chewy Foods
Eventually, eating with dentures will become second nature, and you'll be able to enjoy all your favorite foods once again! Although you might feel more confident eating certain things, you should continue to avoid sticky and chewy foods. Chewing gum, peanut butter, and hamburgers are just a few challenging foods that will take denture wearers a bit of practice to master. Try to practice eating them at home first to avoid making a mess in public.
Dentures are an excellent solution for missing teeth that can restore your bite and confidence. By taking care of your new smile using the tips outlined above, you can ensure it lasts for many years!
About the Practice
At Clear Coast Dental, we make your oral health needs and desires a top priority. We use the latest techniques, materials, and technologies to help you achieve and maintain a smile you're proud of. We understand how difficult it can be to live your life with missing teeth. With dentures, we can restore your grin and help you enjoy your favorite foods once again. Visit our website or call (508) 997-1030 to learn more about eating with dentures.