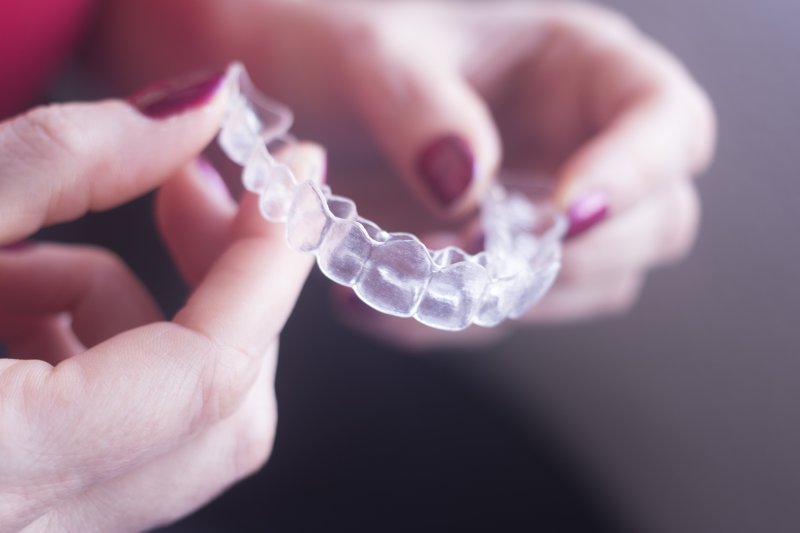 Thanks to Invisalign's clear aligners, it's easy for patients to see how their teeth move during treatment. But what if you start noticing gaps between your teeth and aligners? Unfortunately, that could mean that the plastic trays are not "tracking" your teeth properly – and that can hinder your treatment. Are you unsure of what to do? Read along to learn four tips that can help you get back on track.
What is Clear Aligner Tracking?
First of all, you might be wondering what "tracking" even is. It basically describes how teeth move per your Invisalign treatment plan. The clear aligners use constant, gradual pressure to shift your teeth into a more desirable position. Your teeth continue to repeat this process with every set of new trays until you achieve a perfect, new smile.
Tips to Help You Get Back on Track
So, what should you do if your teeth aren't tracking? Here are few steps you can take:
Use Invisalign Chewies
Invisalign "chewies" are soft, flexible rolls of chewable material shaped like a cotton roll or earplug. Their purpose is to help seat your aligners properly. Do you want to try this approach? After switching to a new set of aligners, or whenever you slip them back in your mouth, chew on them for a few minutes. It helps eliminate tracking issues by ensuring the aligners are positioned properly over your teeth.
Wear Your Aligners as Instructed
If you haven't been diligent about wearing your aligners, it could result in tracking issues. Remember, they must be worn for at least 20 hours per day, although 22+ is preferable. It's crucial that you stick to a schedule and meet the recommended wear time – otherwise your teeth won't move as quickly as they should.
Ask Your Dentist About Back-Tracking
Are your new aligners ill-fitting? It could be because your previous set failed to move your teeth fully in preparation for the new trays. If you think that's why your teeth aren't tracking, ask your dentist about "backtracking". They'll allow you to wear your old aligners for an additional week or two to ensure your teeth are moving properly.
Ask For a Revision of Your Invisalign Treatment
If you tried all the previous steps and your teeth still aren't tracking, you might need to ask your dentist for an Invisalign treatment revision. Depending on their findings, they may need to issue you new aligners or use attachments to help your teeth shift into their ideal position.
Unfortunately, things won't always go according to plan. But with the help of your dentist, you can get back on track in no time. At the end of your Invisalign treatment, you'll have a beautiful, straight smile to show for all your hard work and effort!
About the Practice
At Clear Coast Dental, we have helped patients throughout the New Bedford community achieve and maintain their best smiles for decades. We pride ourselves on providing exceptional, personalized, and compassionate dental care that's bound to exceed even the highest patient expectations. If your teeth aren't tracking with Invisalign treatment, we can revise your plan and help you get back on track in no time. Visit our website or call (508) 997-1030 to schedule an appointment with one of our dentists.