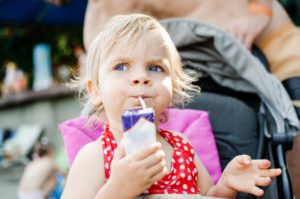 Juice is a popular beverage for people of all ages. Kids love it for the great taste, and parents love all those vitamins it gives their children. However, fruit juice may not be as healthy as you think. In fact, your little one's favorite juice may be dramatically increasing their risk of cavities! Read on as we go over exactly how juice affects your child's teeth and what you can do to keep them happy, hydrated, and cavity-free.
Juice: The Good, The Bad, and the Fruity
Many parents hear the word "fruit" and instantly assume that their child's juice is healthy. While it's true that 100% fruit juice contains plenty of important nutrients, that may not be what your child is sipping on. Marketing companies use terms like juice drinks, fruit punch, and juice blends to make it seem like their products are healthy, when in reality, they're loaded with artificial sweeteners and high-fructose corn syrup.
However, you need to be careful with your child's intake of 100% fruit juice as well. After all, fruits are so sweet because of their natural sugars, which cause cavities just like candy. In fact, studies show that a glass of apple or grape juice has just as much sugar as a glass of soda!
3 Big Problems with Kid's Juice
When you think about what causes cavities, you probably think of things like cookies and candies. However, many dentists report that the impact of juice on children's risk of cavities is often overlooked. There are three big factors that make juice a problematic drink for kids:
Sugar content: It goes without saying that the more juice your child drinks, the more sugar they're ingesting, and the higher their risk of cavities is.
Acidic nature: Juice, especially citrus juice, is naturally very acidic. Every time they come in contact with your child's enamel, they burn some of it away and leave their teeth weakened and vulnerable to decay.
Serving method: When your child sips on juice in a bottle or throughout the day, their teeth are continuously exposed to sugars and acids, which puts them at a higher risk of cavities than if they had finished their drink within a half hour.
Staying Hydrated & Cavity-Free
Thankfully, there are plenty of ways you can keep your child hydrated without raising their risk of cavities. Here are some of the most important tips experts recommend:
Children under six should drink no more than six ounces of juice a day
Children over six should drink no more than 12 ounces of juice a day
Dilute juice drinks with water to lessen the negative impacts
Serve juice to your child with a straw to minimize contact with the teeth
Encourage your child to drink more milk, which helps strengthen tooth enamel
Encourage your child to drink more tap water, which washes away sugars in the mouth and is usually fortified with the beneficial mineral fluoride.
About the Practice
Clear Coast Dental has been serving the families of New Bedford and the surrounding communities for decades. Their talented team of dentists value listening to their patients, teaching them about their oral health, and working together to ensure long-lasting results. They're proud to offer a wide variety of services that are tailored for every stage of life, including treatments designed to help your child's smile stay healthy and strong as they grow. To learn more about preventing cavities in kids, they can be contacted via their website or at (508) 997-1030.