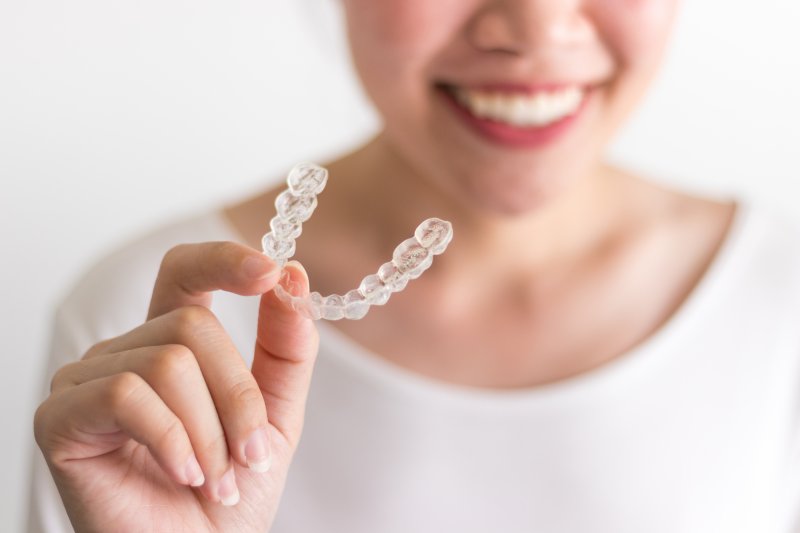 There are many benefits to choosing Invisalign as your orthodontic treatment. They're a discreet, comfortable, and effective solution for a straighter smile. While the clear aligners can typically go unnoticed by the public eye, that won't be the case with improper care. You could be dealing with discolored trays and bacteria buildup, which can have detrimental effects on your oral health. Prevent these issues by using the following care tips to ensure a satisfying, problem-free experience.
Clean Your Aligners Thoroughly
Give your Invisalign aligners some extra love and clean them thoroughly every morning and evening. Bacteria can build up throughout the day and while you sleep during the night. If you don't remove the bacteria, your trays can develop an unpleasant odor or start looking cloudy. Keeping them clean ensures your teeth stay healthy!
Soak Your Aligners Daily
It's a good idea to soak your aligners at least once a day to keep them looking and smelling their best. Dunk your trays in denture cleaner or Invisalign cleaning crystals for at least 15 minutes. Once time is up, gently scrub off any debris, rinse, and slip them back into your mouth.
Remove Aligners Before Eating or Drinking
While undergoing Invisalign treatment, there are no food limitations since the trays are removable. However, you should always remove your aligners before eating or drinking anything that's not water. Otherwise, you risk damaging or staining your aligners.
Keep Your Aligners Safe
One of the downsides to clear aligners is they are hard to find if you misplace them! Avoid losing your trays by storing them in their designated case when not in use. Try not to leave your aligners lying out in the open as they are more likely to get lost or damaged that way. And when left in the open air, they're exposed to more bacteria. Take an aligner case with you everywhere you go to keep them safe!
Plan Accordingly for Long Trips
Invisalign's secret is in the progression of the trays. You wear each aligner for roughly two weeks before moving onto the next phase. Because you need to switch to a new set periodically, some foresight and planning will be necessary if you're traveling. Depending on how long you will be away from home, make sure you pack new aligners along with your current ones to prevent disruptions in your treatment.
Properly caring for your aligners will help you get the most out of your Invisalign experience. By following these tips, you can assure a successful treatment and achieve your dream smile in no time!
About the Practice
At Clear Coast Dental, our focus is providing a warm, welcoming environment with clinically excellent care. We make your needs and desires our top priority. Our dental team values education and stays up-to-date with the latest advances in dentistry, including orthodontics. Invisalign is a modern orthodontic treatment that can comfortably and discreetly straighten your smile. For more information on how to take care of your new aligners, visit our website or call (508) 997-1030.