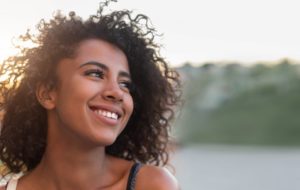 Your smile holds more power than you may realize. Research has shown that a confident smile can have a powerful impact on social and professional life, as well as mental and emotional well-being. Check out what your New Bedford cosmetic dentist has to say about the capability of an attractive smile.
What Makes a Smile Attractive?
You might be wondering what actually makes a smile attractive. Here's a list of some characteristics that go into the science behind what your brain recognizes as a good-looking smile:
White or stainless teeth
Gums that are not receding or covering too much of the teeth
Teeth without cracks or chips
Healthy gums
The absence of gaps or missing teeth
The straightness of the teeth
These are just a few of the initial things people notice about your smile. Keep reading to find out how these characteristics can be a game-changer for your overall well-being
The Power Behind a Beautiful Smile
When someone feels confident in their smile, they won't be afraid to flash their pearly whites at passersby. Check out these proven benefits your dentist in New Bedford has to share about smiling and the power it has to improve your quality of life:
You look younger. In a poll conducted among college students at the University of Missouri-Kansas City (UMKC), the majority of students perceived older people who were smiling to be younger than their ages, while frowning people were thought to be older.
Smiling can make you look thinner. In the same previously mentioned UMKC poll, images of people frowning were assumed to be heftier than those who were smiling.
Smiling stimulates more joy-producing chemicals in the brain than chocolate. You've probably heard that eating chocolate makes you happier. This is because of the chemical called serotonin that it helps the brain produce. A single smile can elevate your mood and produce more of this chemical in the brain than 2,000 chocolate bars!
Even a forced smile can boost your mood. Try it and you'll see! You have the power to boost your mood by choosing to smile. In a study among patients who were asked to place a pencil between their teeth, forcing them to smile, it was proven that they felt better afterward.
Smiling communicates that you are courteous and evokes likeability. The universal sign of approval is a smile. When you smile at someone it makes them feel comfortable around you and tells them you're confident and content.
You get to enjoy a longer life. Plenty of research has proven that happier people live longer and more fulfilled lives. As you now know, happiness has a direct connection to smiling, so encourage your loved ones to smile often!
Smiling is contagious. With all these superpowers a smile brings, why wouldn't you want to share it with others. I'm sure you've noticed that even when you're having a bad day, a smile from a stranger on the street can make you feel a little better.
If you want to give the gifts of happiness and well-being to yourself and others, talk to your dentist today about how you can enhance your smile.
About the Practice
The team of dental experts at Clear Coast Dental is committed to helping each of their patients experience the best quality of life through the gift of beautiful smiles. Their decades of collective knowledge allow them to provide every patient with the highest level of care. Are you ready to start smiling more? Visit us online to request an appointment, or call us at (508) 997-1030.