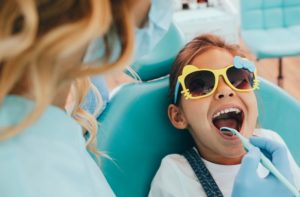 Every parent wishes they got handed a guide on what to expect while raising a child. Luckily, nowadays, if you have an issue or concern, the internet is at your disposal. When it comes to baby teeth, many parents wonder why these temporary pearly whites are so necessary to the development of their child, and whether it's possible for their child to lose them too early. Read on for five reasons that baby teeth are just as important as permanent teeth. ß
Preserve Tooth Alignment and Position
Primary teeth act as space holders for their permanent ones until they grow in. If they fall out too soon due to cavities or other oral health problems, the surrounding temporary teeth will slowly drift to fill in the gap in their smile, taking up the space where their soon-to-be adult teeth would grow in. Then, as their permanent ones begin to erupt through their gums, they'll be blocked by the drifted temporary ones, growing in crooked and misaligned, increasing the chances they'll need orthodontic treatment in the future.
Advocates for Healthy Permanent Teeth
Adult teeth form close to the roots of the baby teeth, meaning that the health of their temporary teeth is directly linked to their future smile. Because baby teeth are so small, cavities can quickly develop and spread because the enamel is so thin. When they're left untreated, these seemingly small issues turn into more severe ones like infections, which can cause permanent damage to the underlying adult teeth.
Proper Digestion and Health
Missing teeth can make it difficult to chew food and prevent you from absorbing the maximum amount of nutrients and vitamins in whatever you're eating. That's why, whether you're an adult or a child, this is an issue. Additionally, untreated cavities that can cause premature baby tooth loss can also result in oral infections, which can spread throughout the body when they're not properly cared for.
Speech and Facial Structure
Every time your child speaks, their tongue, cheeks, and lips interact with the teeth to produce the sound they're looking to make. Without baby teeth to learn how to make this happen, your child can develop speech impediments and communication difficulties early on. Additionally, because the structure of their teeth helps their cheek muscles develop, without them, your child's facial structure may be impacted.
Concentrating in School and Boosted Self-Esteem
Oral pain caused by cavities and infections can make it difficult for your child to focus on what they're learning in class. Missing and damaged teeth can also keep your little one from feeling confident socially interacting with their friends and other students, impacting their self-esteem as they grow older.
Although temporary teeth are only in your child's mouth for a short period of time, they contribute so much to their development, and ensure that their permanent teeth are set up for success. Teaching them healthy oral hygiene habits early on like how to properly brush and floss their teeth is a great start to giving them the tools and knowledge they need to be healthy for life.
About the Practice
At Clear Coast Dental, we have three dentists on our staff who are highly knowledgeable and trained to treat patients of all sizes. Our office is equipped with all the necessary tools to help small smiles grow into healthy adult ones. Each of our dentists is passionate about giving the patients the tools and high-quality treatments they need to take care of their natural teeth for life. We also offer a large menu of children's services, including dental sealants, fluoride treatments, and nightguards for teeth grinding. For questions or to schedule your child's routine checkup and cleaning, visit our website or call 508-997-1030.