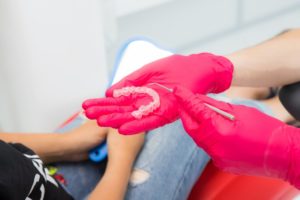 Would you like to straighten your teeth without the cumbersome look and feel of traditional metal braces? There are countless brands of practically unnoticeable orthodontic treatments available to you, but you're probably wondering what the difference between them all is. While there are a few small distinctions, depending on the orthodontic problems that you'd like to have fixed, one option may be better for you than the other. Between Invisalign vs. ClearCorrect, here are some differences in the treatments that you can expect.
How Do Clear Braces Work?
Both Invisalign and ClearCorrect use the same process to gently and strategically alter the alignment of your smile. Every couple of weeks, you will switch to a different series of trays that is one step closer to achieving a finished, straightened grin. Instead of having to constantly get them tightened as you would with metal braces, your dentist provides you with oral appliances that are clear, smooth, and made from an FDA-approved plastic to fix several problems such as:
Crossbite
Overbite
Underbite
Crowding
Crooked Teeth
Misalignment
Gaps Between Teeth
Are The Aligners Made Differently?
For ClearCorrect, all the aligners are crafted in Texas. Your dentist will take multiple images of your mouth and an impression of your teeth to craft your custom trays. You'll need to wear them for 22 hours a day to get the results you'd like to see.
With Invisalign, your dentist will use scans along with X-rays to create a model of your mouth. This will be sent to a location outside the U.S, where all Invisalign aligners are made. You'll also need to wear your Invisalign trays for 22 hours a day.
How Do the Treatment Plans Differ?
The main difference between the two is that Invisalign uses a customized treatment plan. That means that you won't know the cost until after your initial consultation because you won't know how long you'll need to wear your aligners for. Typically, patients wear anywhere from 20 to 30 sets of trays throughout the process. Because Invisalign doesn't use a default plan, this means you'll need to visit your cosmetic dentist more often than if you get ClearCorrect.
ClearCorrect offers three standard treatment plans depending on what orthodontic issues you need to fix. This means that they have a set cost, so you'll know what you're getting yourself into from the get-go. The three plans include:
Unlimited Aligners. With this plan, your cosmetic dentist will use however many aligners are necessary to make sure that you achieve the results you're looking for.
Limited 12. Your cosmetic dentist prescribes 12 aligners total to straighten your teeth.
Limited 6. This plan uses six aligners total and is great if you had braces before and need small adjustments made.
How Do You Know Which Option is Right For You?
The best way to learn whether Invisalign or ClearCorrect is the best option for you is to schedule a consultation with your cosmetic dentist. During this visit, you'll be able to discuss what transformations you'd like to see. They'll also assess the severity of your orthodontic problems. Based on your budget and other factors that are important to you like easy maintenance and treatment time, your dentist can point you towards the best alternative to braces for your unique needs.
About the Author
Dr. Andrew Luccio is passionate about continuing his education as well as pursuing advanced training so he can provide his patients with the latest techniques that dentistry has to offer. He has sharpened his skills and completed numerous courses on clear aligner orthodontic treatments, Botox®, and Juvéderm® dermal fillers. He enjoys boosting his patients' confidence by helping them achieve a smile they're proud to show off. For questions or to schedule a consultation for Invisalign or ClearCorrect, visit Clear Coast Dental's website or call 508-997-1030.