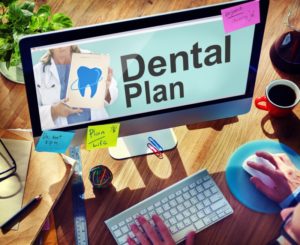 You're paying for dental benefits every month, so why not utilize them? Most plans either run on a traditional calendar year or a fiscal calendar, which is why it's important to take advantage of them before the end of the year. Using your insurance can help save you hundreds of dollars as well as a ton of time. Practicing preventive care can give you the peace-of-mind you need to not worry about what issues could be developing in your mouth. Learn how using your two fully covered checkups and cleanings with your dentist can help your overall wellbeing by reading below.
What Does Dental Insurance Typically Cover?
Most policies either fully or partially cover the cost of preventive care. This includes two visits to your dentist each year, fillings, root canals, crowns, and tooth extractions. Some plans can also include orthodontic and prosthodontic treatments.
Typically, insurance policies will cover 100% of preventive treatments, 80% of basic procedure costs, and 50% of any major procedures. Depending on your policy, they may not cover preventive treatments such as sealants, at all. Double-checking with your insurance provider before you schedule any procedures is a great way to know what to expect when you visit your dentist's office.
How Can Utilizing Your Benefits Promote Good Overall Health?
Research has connected your oral health to your overall health, which is why it's vital to protect your mouth. Investing in dental insurance as well as utilizing it can save you a huge chunk of money and time. Enjoy the following benefits by utilizing your plan:
Maintain good oral health. Even though you may brush and floss at home, visiting your dentist for a professional cleaning helps clean plaque and tartar that you can't clear from your mouth with a regular toothbrush.
Lower your risk of developing other health problems. Research has connected oral health with illnesses such as heart disease, cancer, and respiratory infections. By visiting your dentist and keeping up with your gum and teeth health, you can reduce your risk of developing these.
Save money on procedures and treatments. Delaying routine dental care and necessary treatments can result in oral problems like tooth decay that can be uncomfortable and result in costly procedures.
Since you already invest in your insurance, why not take advantage of it?
Why Should You Use Your Insurance Before The End Of The Year?
If your insurance runs on a traditional calendar, it's important to use your benefits before the year's up. If you've already paid your deductible, take advantage of the fact that your insurance company will help pay for your remaining dental services. Additionally, at the end of each year, your dentist may raise their rates due to the increased cost of materials and equipment. This can cause your copayment to go up as well. Take advantage of lower rates before it's too late!
Tackling dental problems before they worsen can save you a huge headache. Since you most likely have two free visits to the dentist this year, why not use them so you can rest easy knowing you're in good health?
About the Practice
At Clear Coast Dental, we offer the services of three highly trained and experienced dentists. Our team works together to provide patients with the best possible care. With collective decades of experience, our patients know they're in great hands. For questions or to schedule a semi-annual checkup and cleaning, visit website or contact 508-997-1030.