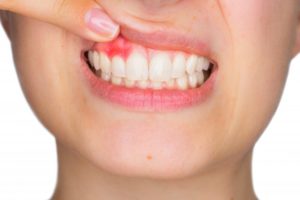 According to the Centers for Disease Control and Prevention, about half of Americans who are 30 or older have gum disease. By keeping your gums in tip-top shape, you'll be able to avoid detrimental health problems that have been directly linked to gum disease, such as heart disease and diabetes. Read on to learn how you can maintain healthy gums and ward off decay and disease by visiting your dentist in New Bedford.
What is Gum Disease?
Gum disease is a condition where your gums become inflamed and infected due to plaque and bacteria buildup. This disease is commonly caused by poor oral hygiene that allows bacteria and hardened plaque to remain below the gumline and infect the gums. When you develop it, pockets will form between your teeth and gums and you will experience several symptoms including:
Swollen gums
Bad breath
Receding gums
Sensitive teeth
Shifting teeth
In the worst cases you may suffer tooth loss, especially if you don't get it treated right away. If you are experiencing any of the symptoms from above, contact your dentist so they can determine whether you have gum disease.
Gum disease has been shown to put individuals at risk for developing diabetes, heart disease, osteoporosis, and pneumonia. When it's detected in its early stages, it's easier to treat and the symptoms may be able to be reversed. Some factors that may put you at risk for developing the condition include tobacco use, genetics, nutritional deficiencies, or side effects due to prescription medications.
How Can Your Prevent Gum Disease?
While regular semi-annual checkups and cleanings with your dentist are vital for helping remove hardened plaque and detecting early symptoms, caring for your oral health at home has a huge impact on your mouth. Here are some important tips to help protect yourself from gum disease and keep your smile healthy:
Brush for two minutes twice each day with fluoridated toothpaste to remove plaque, tartar, and harmful bacteria.
Floss daily to dislodge and remove food particles that your toothbrush can't get to. When food debris is left unremoved, it can cause your mouth to become a bacterial breeding ground.
Maintain a nutritious diet where you limit your consumption of starchy and sugary foods that can lead to dental decay.
Avoid tobacco use because it is a known risk factor to gum disease and can aggravate your oral tissues.
Visiting your dentist for your regular checkups and cleanings is the best way to detect early signs of gum disease while it's still reversible. During this visit, you can ask your dentist any questions you may have about your gum health. They can also suggest oral hygiene products that you could use at home. Fortifying your oral health means protecting your overall health, so don't put it off!
About the Practice
At Clear Coast Dental, we have 3 dentists with extensive knowledge and collective decades of expertise. Each of our dentists takes pride in providing every patient with the individualized treatment they need. They're able to do this because they take the time to get to know every person that walks through the doors. Whether you need gum disease therapy or dental implants, they'll be able to provide you the highest quality of care. For any questions or to schedule an appointment for a checkup and cleaning, visit Clear Coast Dental's website or contact 508-997-1030.