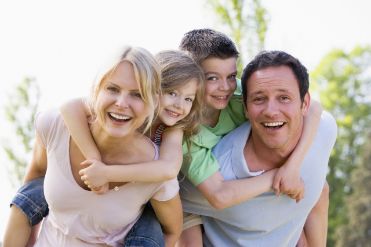 When the time rolls around for your family's dental visits, you have two choices: You can schedule with multiple different offices (which also means driving all over town), or you can schedule with just one office that meets everyone's different needs. Sounds like an easy choice, right? Getting great care from a family dentist in New Bedford, all in one place, is an easy way to simplify life. Learn more below about the many services you can get and pick up some great tips for finding a high-quality family dentist!
General and Specialty Care – All Under One Roof
It's not uncommon to have particular needs for children of different ages as well as you and your spouse. One child may need sealants while another wants clear braces. Or you may need gum therapy while your spouse could use a new dental crown.
Scheduling with a family dentist who offers comprehensive care is the best way to accommodate all of these needs, and can oftentimes be scheduled on the same day. Here are just some of the services a family dentist can provide:
Checkups and cleanings
Children's dentistry such as fluoride treatments, sealants, and athletic guards
Gum therapy, including "deep cleanings" and periodontal maintenance
Invisalign and ClearCorrect clear braces
Cosmetic dentistry such as whitening, cosmetic bonding, and veneers
Botox and Juvederm for both cosmetic and therapeutic purposes
Gum shaping and recontouring
Dental implants
Tooth-colored fillings and dental crowns
Bridges and dentures
Root canals
TMJ/TMD therapy
Sedation options to alleviate fear or anxiety
Extractions
Emergency care
Tips For Finding High-Quality Family Dental Care
The best place to start your search for a great family dentist is spending some time on their website. In addition to making sure they provide a wide range of services, you can also look for conveniences like weekend hours and special offers.
It's also a good idea to make sure an office has invested in modern equipment and technology to make your dental care more efficient and comfortable. Here are some good examples:
Soft Tissue Laser – This cutting-edge technology makes gum treatment so comfortable that, in many cases, local anesthesia isn't even necessary. It also causes significantly less bleeding and discomfort and promotes faster healing.
Intraoral Camera – This tiny camera takes up-close photographs of your teeth and gums to help you better understand your oral health.
Digital X-rays – Digital X-rays use up to 90% less radiation and also provide a far better image than traditional.
Digital Impressions – No one likes messy, uncomfortable impressions. Digital impressions are taken by simply scanning your teeth, which makes the process easier, faster, and more accurate.
Make life easier by getting great dental care for everyone in just one office. Once you find out how convenient it is, you'll never do it any other way!
About the Author
Dr. William Herr is a family dentist in New Bedford and a graduate of the University of Maryland School of Dentistry. With a passion for great dentistry, he's pursued advanced training in many specialty areas so he can provide comprehensive care for patients of all ages. If you're looking for a family dentist and have any questions, he can be reached via his website.