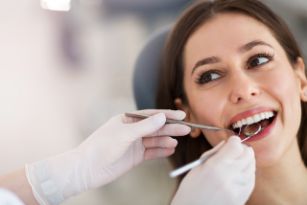 Welcome! Everyone on the staff here at Clear Coast Dental is excited to share our first blog with you. We hope this new platform for sharing oral health information will be a great resource for you in your journey towards having a healthy smile. Each month we'll have a new blog about topics like professional teeth whitening, how dental implants work, or why dental crowns are necessary. For this first blog, we'll tell you what kind of services we provide and share a few of the things our patients have said about us. We look forward to meeting you and serving our community for many years to come!
What Kind of Services Can You Get Here?
Everyone is busy these days, so we make it easy to get all the dental care you and your family need in one place. We even offer Saturday hours to make your appointments as convenient as possible.
In addition to general dentistry for patients of all ages, we also provide many types of specialty care such as root canals, gum therapy, cosmetic dentistry, oral surgery, and dental implants.
There are also multiple sedation options to make sure every patient can get the care they need in a relaxing, stress-free environment.
What Do Our Patients Have To Say?
Here are just some of the things our patients have said in their reviews:
"Great dentistry – would not want to go anywhere else. Great people, gentle, and caring."
"The staff at Clear Coast is one of the best around."
"Clear Coast Dental is the place to go! From the check-in, to the dental hygienists and dentists, to the checkout…They make it a smooth experience."
"The staff are very friendly, the rooms immaculate. I highly recommend this dental office!"
There's no better compliment than when our patients tell other people about their great experience here. And it also motivates us to keep it up!
What's Our Approach To Dentistry?
Our main focus is on providing high-quality dental care that helps our patients achieve outstanding oral health. But spending some time getting to know each patient is also a priority because we want to build long-term relationships that are based on trust.
Everyone here, from the front desk staff to the assistants, hygienists, and dentists, works hard each day to provide high-quality, trustworthy care. At the end of the day, we hope to be the last dentist in New Bedford you ever need.
Lastly, we're accepting new patients, so if you or a family member need anything, from a checkup and cleaning to a dental implant, don't hesitate to get in touch. We're here to help!
About the Author
Dr. Andrew Luccio is a general, cosmetic, and restorative dentist in New Bedford and a graduate of Tufts University School of Dental Medicine in Boston. As a South Shore native, he's thrilled to serve his community's dental needs and looks forward to many years of service in the area. If you have any questions or would like to schedule an appointment, he can be reached via his website.